Avoiding your training ride because it's too cold outside? Helmets not keeping you warm enough? The best solution is to invest in a cycling balaclava.
A high-quality bike balaclava will keep your face warm during winter cycling and ensure that you have a more comfortable ride than you would with just a helmet or neck gaiter. But what is the best cycling balaclava for winter cycling?
A wide selection of balaclavas are available on the market, and it can be confusing to choose the right one for your needs.
In a hurry? Here are our top picks:
This article explores some of the top-rated balaclavas for winter cycling and gives you a buying guide to help you choose the best product for your needs and budget. Read on.
How To Choose The Best Cycling Balaclava For Winter Cycling
Finding the best cycling balaclava can be challenging, especially if you don't know what to look out for. Below are some of the critical factors to consider when shopping for a balaclava for winter riding.
Sizing
Many manufacturers offer their balaclavas in one universal size. However, this sizing is not always great and may not work for you if you are on either side of the extreme.
If you have a larger head than normal, you might feel like a universal balaclava is quite restrictive and uncomfortable to wear for a prolonged period. Conversely, if you have a smaller head, you might find the universal balaclava moving around too much.
Before buying a bike balaclava, it is important to check whether the size fits you or not. If you are shopping online, checking user reviews can help you know how the balaclava fits certain shapes or sizes.
Material
Cycling balaclavas are usually made from natural or synthetic materials. You'll need to consider how these feel against your face and skin as you ride through the cold.
Check out our guide on how to layer for winter cycling where we discuss materials and how they can help keep you warm.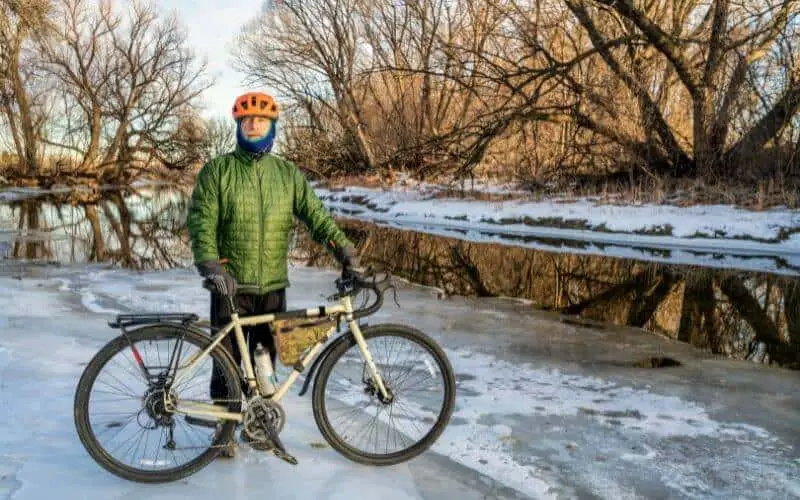 Wicking Properties
Most cycling balaclavas will deliver much-needed warmth. However, without proper wicking, the face mask will soon become soaked in sweat and may irritate your skin. Wet fabric clinging to your skin is not a pleasant feeling, especially with the cold wind beating on your face.
The most affordable balaclavas are usually polyester and have good moisture retention. Mid-range balaclavas are often made with microfleece or nylon and offer decent protection from moisture. You will pay a premium price for a cycling balaclava that offers full moisture wicking.
Consider your budget and comfort (sweating!) needs and go for what works best for you.
Coverage
The amount of coverage a rider needs from a cycling balaclava can differ. This is a critical consideration when choosing a balaclava because different designs offer different winter riding experiences.
While some options will cover up to your nose, others will cover only your head and ears.
Related article – 5 Of The Best Winter Cycling Jackets
Alterability
Some bike balaclavas have a fixed design and cannot be adjusted. Others are stretchy and adjustable, and you can alter them to suit your specific needs. You might also want to consider a "hinged" version which features a garment that you can raise or lower for heat retention or comfortable breathing.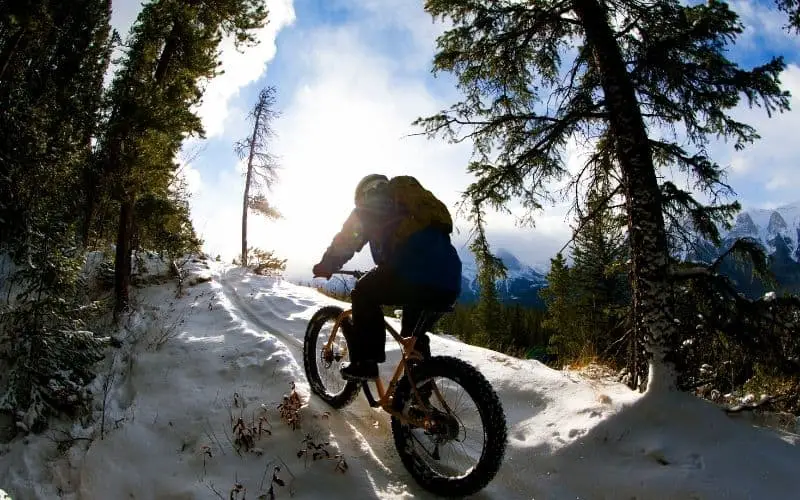 Vision
Eye exposure is another critical consideration when choosing a cycling balaclava for winter riding. Some balaclavas feature relatively small holes for eyesight. While such options will keep you warmer, you may have a limited range of vision.
Balaclavas with larger eye holes are ideal for road bikes requiring a broader range of eyesight. I opt for this version and pair it with polarized sunglasses.
It's essential to check the size of the eye holes while considering your eye movements while cycling. Make sure you find a balaclava designed to fit glasses if you use glasses.
5 Top-Rated Balaclavas For Winter Cycling
If you are looking for the best cycling balaclava made from Merino wool, you can't go wrong with Minus33. Many people choose Merino wool balaclavas because it's lightweight and comfortable, and Minus33 is both.
This high-quality balaclava features 100% Merino wool construction, and it is exceptionally soft and comfortable. While it is not ultra-thick, it provides sufficient heating to keep you warm in the winter.
Minus33 is a one-size-fits-all balaclava. It will comfortably cover your ears, nose, and mouth. The edges around the opening hold tight on your skin, making it airtight. Another remarkable attribute of this balaclava is that you machine wash it, making it relatively easy to maintain.
Overall, Minus33 Merino Wool Balaclava is excellent for winter cycling and delivers value for money.
---
Seirus Innovation 8039 is another top-rated balaclava for winter cycling. One attribute that sets it apart is that it features a hood, face mask, and neck warmer in one. This unisex balaclava features a neofleece 5 layer to maintain warmth even in the coldest of temperatures.
This balaclava also comes with a neoprene liner to protect you from cold and wind. Other protective features include a waterproof lining, sizable central ventilation holes, and a robust outer shell for enhanced durability.
The microfleece wicking lining helps to prevent dampness. Also worthy of note is the contoured mask, which helps to keep your face warm and promotes easy breathing. Seirus Innovation 8039 also features a four-way stretch that significantly enhances comfort.
Another valuable feature that sets it apart from most balaclavas is its flat seam design that can fit hats, helmets, goggles, and other headwear.
---
If you want a versatile, windproof balaclava that delivers great warmth and comfort at low temperatures, the Chaos CTR Tempest Multi-Tasker Pro is an excellent option. This unisex balaclava has a stylish and user-friendly design, making it easy to use.
Made from MicroFlex fleece (95% polyester and 5% spandex), this winter balaclava offers exceptional cold protection and decent chest and neck coverage. MicroFlex fleece is a lightweight stretch fleece that offers lasting warmth and comfort.
As a bonus, Microflex fleece also has wicking properties, helping keep your face moisture-free and creating a soft, toasty feeling on your neck and face. Another remarkable feature of this balaclava is the windproof face cover that ensures complete face protection. It only leaves your eyes exposed.
This balaclava is hinged, so you can easily pull it down when you need more air. Since it's multi-use, this balaclava is appropriate for a wide range of activities. Besides winter cycling, you can also use it for motorcycling, hiking, skating, surfing, trekking, and any other activities you might want to enjoy when it is cold.
---
Consider buying the Original Turtle Fur Fleece if you need an affordable heavyweight balaclava for your winter rides. You can wear it with a helmet, making it ideal for cycling. Its no-fuss one-adult size can fit most people.
This winter balaclava boasts double turtle fur fleece layers. The fur fleece is exceptionally soft and will keep your head and neck warm. The hood features a smooth fabric that cozily hugs your head and keeps it warm and comfortable.
This hood design helps to keep your head warm and safe from harsh winds and snow. This balaclava wicks away moisture from your face, enhancing your comfort. It is machine washable, and you can tumble-dry it on a low heat setting, making it easy to maintain.
Another great attribute of this balaclava is that it is available in nine color options, so you can find one that fits your style and preference.
---
If you are looking for a durable balaclava that offers maximum breathability without compromising your warmth and comfort, the Friendly Swede Balaclava is a great choice. This balaclava is ideal for those who have difficulty breathing in regular balaclavas.
Thanks to its 93% polyester and 7% spandex construction, this balaclava can uphold warmth while fitting a wide range of head sizes. It has a mesh in the nose area for easier breathing. The enhanced breathability makes this balaclava suitable for use even in spring and autumn.
The lightweight fabric used to make this balaclava is machine-washable and quick-drying. It is also wrinkle-free. That means you can wash it in the evening and use it the next day, making it an excellent choice if you don't want to invest in multiple balaclavas for daily use.
With the thin and lightweight construction, you can comfortably wear it under your helmet. Therefore, if you want a cycling balaclava to combine with your helmet, you can't go wrong with the Friendly Swede.
---
Conclusion
A balaclava is a must-have accessory for winter cycling. However, numerous options are available on the market, making it challenging to choose the right one for your needs. When choosing the best cycling balaclava for winter cycling, you will need to consider several factors.
While balaclavas often come as a universal fit, ensure your preferred balaclava is not too small or too big for your head. You also want a balaclava made from soft and comfortable fabric, and it should wick moisture properly to keep your face dry and warm. It should also allow for proper vision and breathability.
If we had to pick one, we'd go for the Minus33 Merino Wool Balaclava. Great value for a warm, lightweight, and comfortable balaclava.
We have reviewed five winter balaclavas here, and each of them has features that make it stand out from the rest. Nonetheless, all of them will help keep you warm and comfortable while cycling in winter.
Ride on!