Have you ever heard the saying "Winter miles, make summer smiles"? 
It's true but cycling in the winter can be awful if you're not layered up correctly, that's something I've learned the hard way! 
So how do you layer for winter cycling? 
Following the 3 layer rule and the aim is that each layer serves a different purpose. One layer to remove moisture. Another to keep you warm. Finally, one to protect you from the elements.
Want to know more?
Winter Cycling – Be Prepared
Winter cycling can be a joy, providing you're prepared.
If you end up too cold or wet, frankly, it's miserable. The night before a ride, I would recommend that you get your kit out ready. Know what you're going to wear. There's less chance that you'll forget anything and there's a greater chance that you'll get the right stuff too!
Also, check the weather forecast.
Do this the night before (so you can get the right kit out) and also before you set off riding. This gives you time to adjust your outfit if you need to cater to the right weather conditions.
You should also consider that the weather might change so be sure to pack at least a light rain jacket if the weather is meant to be ok. That way, if it does rain, you can easily grab your jacket from your jersey and stay dry.
Upper Body – Inner Layer, Outer Layer, etc
Instead of just wearing your usual jersey, there are additional items that I'd recommend you purchase to help with layering up for winter.
Base Layer
The base layer is where it all starts. It's the breathable layer that sits between your skin and a jersey/jacket.
Base layers are available in lots of different thicknesses and styles (short/long-sleeved). This is great because on milder days, you can wear a thin one and they work brilliantly to wick any sweat from your body. It also adds an extra bit of warmth too.
I often pop a short-sleeved one on when I need something to take the chill away.
Quite a lot of base layers feature a back section that is longer so you get good coverage on your lower back…also stops you from having a builder's bum, which, speaking for myself, is always appreciated! 
Man-made fabrics are used a lot with base layers but I'd recommend Merino wool or something that is at least a wool mixture as these tend to wick the sweat better and keep you warmer.
Mid-layer
I'm mostly talking jerseys for mid-layer and which one is going to depend on the weather conditions and temperature. 
The great thing with jerseys is that there is so much choice! Fabric type, thickness, sleeve length – a few options to choose from. 
So the purpose of the jersey is to work with your baselayer to help wick the sweat and provide insulation to your core and upper body. For the best ventilation option, go for a full-zip jersey. 
Don't forget that you will want to be able to access your pockets easily, whether that's for snacks or to stash additional layers in there.
Outer-shell
A thin waterproof jacket should be something every cyclist owns. It took me a long time to heed that advice but trust me, it's a game-changer.
When your start your ride and it's cold, pop it on, it'll take the chill off things. When you start warming up, the jacket will fit neatly into your jersey pocket. If the day is looking good, I'd suggest that you still carry one in your jersey pocket in case the weather turns or you have a long chilly descent up ahead.
There is some truth that some thin waterproof jackets do become quite sweaty and feel cold but there are ones out there that don't (Gore Shakedry, I'm looking at you) and are incredibly breathable.
Another option for your outer shell could be a softshell jacket as you will be able to wear this for your full ride. These types of jackets are thicker and aren't often water-resistant but they do keep you warmer. 
When you do find a good one, you get attached to it!
Lower Body
As the weather cools down you should consider switching from shorts to tights.
Cycling tights usually come with brushed inner faces, which do a lot to keep you warmer. Some will come with windproofing and water repellant features. All of this is aimed at keeping you drier and warmer.
If tights aren't your thing then you could go down the route of fleece-lined shorts. They are thicker and more versatile than tights but obviously don't cover you beyond your knees. However, you can combine fleece-lined shorts with knee warmers or leg warmers. This does mean that you can easily remove these when you warm up.
When the weather is especially cold, don't be shy to layer up, even more, road riders will wear shorts under tights to give an extra layer of warmth. 
Extremities
Head
A layer under your helmet can make a big difference to how you feel so I'm a big fan of wearing a skull cap or a buff-style warmer. 
You may have heard that you lose a lot of heat through your head, well that isn't actually true. But why do we think it is?
That's down to how it feels. A cold head feels awful. 
There are plenty of options out there when it comes to keeping your noggin' warm. A buff is my go-to item. It fits nicely in the jersey pocket and is super versatile. Sometimes I use it for my head, sometimes it's keeping my neck warm (that's really comforting on cold days!).
Need some additional warmth? Check out the Best Cycling Balaclava For Winter Cycling.
Hands
Hands obviously need to be protected too. When you find the right pair of winter gloves, your hands will thank you.
Oh, you're having trouble finding the right pair? Here we are, the best winter cycling gloves! 😁
Look out for things like being able to use a touchscreen and if they are waterproof or not.
Feet
Your feet need to be looked after and kept warm. They do you're pedaling so ideally you want to be able to feel your toes, right? 😆
Cycling shoes are usually designed to give you plenty of ventilation. Your feet are working hard and they need to breathe so it makes sense. However when the cold weather strikes, that wonderful ventilation system, starts letting in the cold weather. 
Not so wonderful.
This is where shoe covers/overshoes shine. Even if you go for the most basic of overshoes, you will feel some benefit.  
There are different overshoes for different riding conditions and if you need a hand in deciding, I can help with that too 😁 Best Cycling Shoe Covers!
If you're more of a mountain biker, there aren't too many choices of overshoes for you, mainly because they get destroyed on trails. What mountain bikers tend to do is wear waterproof and insulated socks to keep their feet warm.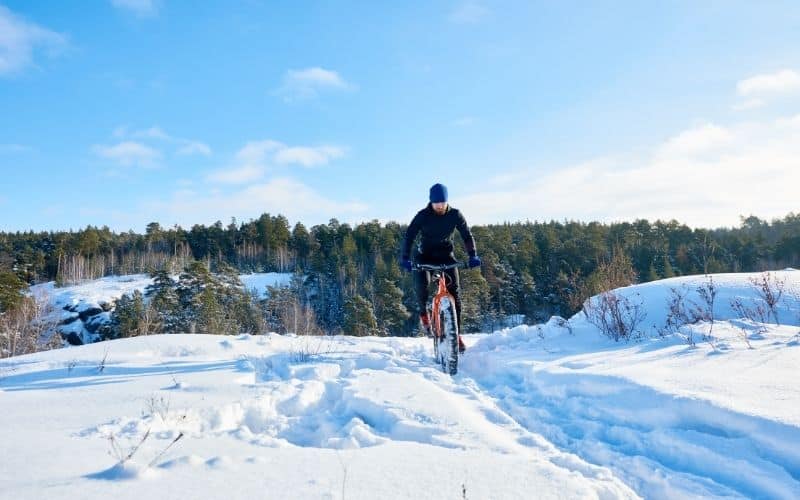 Frequently Asked Questions
How Do You Know If You've Chosen The Right Outfit?
Nobody is the same when it comes to insulating needs so some of this is going to be trial and error to perfect your laying techniques.
However, there are a few telltale signs:
When you step outside and you're immediately cold. I don't just mean on the face but under your shirt. You need more layers or you may not warm up. 
On the flip side to that, if you're already warm while you're standing around getting ready, then you're going to overheat, quickly. 
If you're a bit chilly as you start moving, then you most likely have the right outfit on and will warm up as you get going.
What Is The 3 Layers Rule?
When you're cycling in the winter, you need to try and protect yourself from the elements (these being rain, wind, and cold temperatures) and this can be done through good perspiration management. 
A 3 layer system is a way to help you choose the right clothes according to the weather conditions.
Three layers of clothing are:
A base layer to remove any moisture
Mid-layer to keep you warm
Outer shell to keep you protected from the elements
Can You Wear Two Base Layers Cycling?
Yes, you can wear two base layers when you're cycling. Be careful not to restrict movement though.
Two thin base layers can be great for giving you the flexibility to change as your ride progresses, rather than wearing one thick layer.
Final Thoughts
It might take a few rides to get to know what your body needs when it comes to layering for winter rides but it is worth persevering with as winter rides can be fun and that's coming from a bit of a fairweather cyclist! 
Remember to apply the 3 layer rule where appropriate as that should set you up with the greatest chance of layering success! 
How often do you ride in the winter?