Have you ever heard the saying "Winter miles, make summer smiles"? 
It's true, but cycling in the winter can be awful if you're not layered up correctly. That's something I've learned the hard way! 
So how do you layer for winter cycling? 
Following the 3-layer rule and the aim is that each layer serves a different purpose. One layer to remove moisture. Another to keep you warm. Finally, one to protect you from the elements.
Want to know more?
Winter Cycling – Be Prepared
Winter cycling can be a joy, provided you're prepared.
It's all about striking the right balance between cold and hot when cycling in winter.
If you end up too cold or wet, frankly, it's miserable. The night before a ride, I recommend getting your kit out ready. Know what you're going to wear. There's less chance that you'll forget anything, and there's a greater chance that you'll get the right stuff too!
Also, check the weather forecast.
Do this the night before (to get the suitable kit out) before you set off riding. This gives you time to adjust your outfit to suit the right weather conditions.
Also, the weather might change, so pack at least a light rain jacket if the weather is okay. You can quickly grab your jacket from your jersey and stay dry if it rains.
Experiment with various clothing combinations to find your ideal outfit for specific temperatures.
How To Layer for Winter Cycling
Instead of just wearing your usual jersey, there are additional items that I'd recommend you purchase to help with layering up for winter.
Winter Cycling Base Layer
The base layer is where it all starts. The breathable layer sits between your skin and a jersey/jacket.
Base layers are available in many thicknesses and styles (short/long-sleeved). This is great because, on milder days, you can wear a thin one. They work brilliantly to wick any sweat from your body. It also adds an extra bit of warmth too.
I often pop a short-sleeved one on when I need something to take the chill away.
Quite a lot of base layers feature a back section that is longer, so you get good coverage on your lower back. It also stops you from having a builder's bum, which, speaking for myself, is always appreciated! 
Manufactured fabrics are often used with base layers, but I'd recommend Merino wool or something that is at least a wool mixture, as these tend to wick the sweat better and keep you warmer.
I would avoid anything cotton, as it absorbs moisture and will make you feel cold and clammy.
Remember, it's the foundation of your winter cycling ensemble. Explore different thicknesses and materials to find what best suits you.
Winter Cycling Mid-layer
I'm mostly talking cycling jerseys for mid-layer. Which jersey will depend on the weather conditions and temperature.
The great thing about jerseys is that there is so much choice! Fabric type, thickness, sleeve length – a few options to choose from.
So the purpose of the jersey is to work with your baselayer to help wick the sweat and provide insulation to your core and upper body.
Fleece or microfiber materials work well; go for a full-zip jersey for the best ventilation option. 
Don't forget that you will want to easily access your pockets, whether for snacks or to stash additional layers.
The Outer-shell
A thin waterproof jacket should be something every cyclist owns. It took me a long time to heed that advice but trust me. It's a game-changer.
When you start your ride and it's cold, pop it on. It'll take the chill off things. The jacket will fit neatly into your jersey pocket when you start warming up.
If the day looks good, I suggest you still carry one in your jersey pocket in case the weather turns or you have a long chilly descent ahead.
There is some truth that some thin waterproof jackets do become quite sweaty and feel cold, but there are ones out there that don't and are incredibly breathable. Be prepared to pay up, though!
Another option for your outer shell could be a softshell jacket, as you can wear this for your entire ride. These jackets are thicker and aren't often water-resistant, but they keep you warmer.
Your outer layer should be roomy enough to accommodate your base and mid-layers without restricting movement. When you do find a good one, you get attached to it!
Protect Your Lower Body
As the weather cools, consider switching from shorts to tights.
Cycling tights are essential for winter cycling as they offer insulation, protection, and flexibility. They often include thermal fabrics and in-built padding for comfort during long rides.
Look for tights that fit snugly and don't restrict your movement. If it's especially cold, consider wearing a pair of leg warmers underneath your tights for extra warmth.
All of this is aimed at keeping you drier and warmer.
If tights aren't your thing, you could use fleece-lined shorts. They are thicker and more versatile than tights but don't cover you beyond your knees. 
However, you can combine fleece-lined shorts with knee warmers or leg warmers. This does mean that you can easily remove these when you warm up.
When the weather is freezing, don't be shy to layer up. Even more, road riders will wear shorts under tights to give an extra layer of warmth.
Shielding Your Extremities
Chilly hands, a cold head, and freezing feet shouldn't stop you from hitting the road.
This section will discuss keeping your extremities warm, focusing on your head, hands, and feet!
Head
Certain winter bike helmets are designed specifically for cold weather biking and include insulated liners and protective ear flaps. These can help you stay comfortable during those chilly rides.
If you're still cold, a layer under your helmet can make a big difference to how you feel, so I'm a big fan of wearing a skull cap or a buff-style warmer.
You may have heard that you lose a lot of heat through your head. Well, that isn't actually true. But why do we think it is?
That's down to how it feels. A cold head feels awful.
There are plenty of options out there when it comes to keeping your noggin' warm.
A buff is my go-to item. It fits nicely in the jersey pocket and is super versatile. Sometimes I use it for my head. Sometimes it's keeping my neck warm (that's really comforting on cold days!).
A cycling balaclava is also an excellent choice to keep you toasty during winter rides. It provides good coverage of your head and neck. Find out which is the best cycling balaclava to help you stay warm.
Hands
Your hands need to be protected too. When you find the right pair of winter gloves, your hands will thank you.
They should not only provide insulation but also allow for dexterity and control. Ensure you look out for things like using a touchscreen and whether they are waterproof.
Feet
Your feet need to be looked after and kept warm. They do your pedaling, so ideally, you want to be able to feel your toes. 😆
Cycling shoes are usually designed to give you plenty of ventilation. Your feet are working hard and need to breathe, so it makes sense. However, when the cold weather strikes, that fantastic ventilation system starts letting in the cold weather. 
Not so wonderful.
This is where shoe covers/overshoes shine. Even if you go for the most basic of overshoes, you will feel some benefit.  
Consider factors like insulation, breathability, and waterproofing when selecting cycling shoe covers specifically for winter rides.
If you're more of a mountain biker, there aren't too many choices of overshoes for you, mainly because they get destroyed on trails. Mountain bikers tend to wear waterproof and insulated socks to keep their feet warm.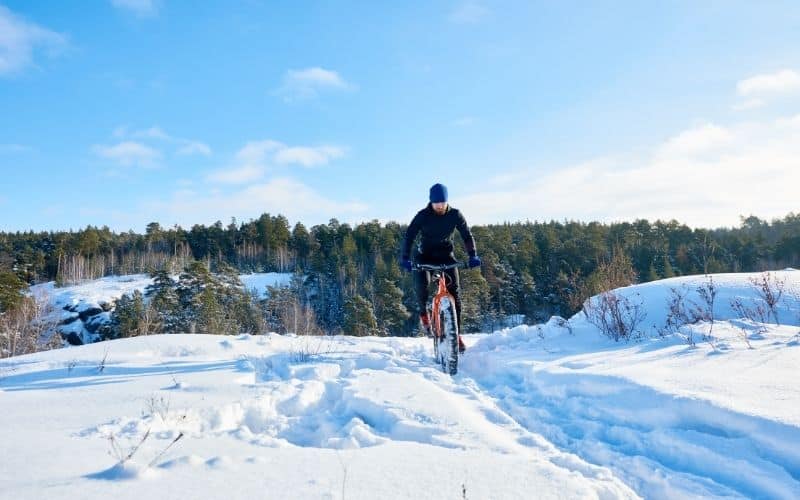 Materials for Winter Cycling Clothing
Ok, we've talked about what you should wear. Now let's go into detail about the best winter cycling clothing materials you must look out for. Your morning rides will never be the same!
Merino Wool: An excellent choice for winter cycling (but not cheap!). Merino wool provides warmth, breathability, and moisture-wicking properties, keeping you dry and cozy on your ride. Best of all? It is naturally odor-resistant!
Wool: Like Merino, regular wool is also a fantastic natural insulator. While it may be slightly less breathable and moisture-wicking than Merino, it still provides excellent warmth during those chilly rides. Don't worry about feeling itchy; modern wool cycling garments are soft and comfortable.
Synthetics: Polyester and other synthetic fibers are common materials for winter cycling clothing. They offer good moisture-wicking properties and insulation. Many layered clothing options combine synthetic fibers with wool for improved performance.
Cotton: Steer clear of cotton for winter cycling. Unlike other materials, cotton absorbs and retains moisture, leaving you feeling cold and damp during your ride. Stick with wool or synthetics for a better winter cycling experience.
The Importance of Breathable and Waterproof Clothing
A breathable fabric is essential. It lets moisture escape, preventing clamminess and overheating.
Many cycling-specific base layers are made from materials that excel at wicking sweat and allowing air to circulate.
But what happens when the rain starts? You'll need a waterproof jacket to keep the wet out.
Cycling-specific rain jackets are designed to be both waterproof and breathable, shielding you from rain without turning into a steamy sauna.
Frequently Asked Questions
How Do You Know If You've Chosen The Right Outfit?
Nobody is the same when it comes to insulating needs, so some of this will be trial and error to perfect your laying techniques.
However, there are a few telltale signs:
– When you step outside, you're immediately cold. I don't just mean on the face but under your shirt. You need more layers, or you may not warm up. 
– On the flip side, if you're already warm while standing around getting ready, you'll overheat quickly. 
– If you're a bit chilly as you start moving, you most likely have the proper outfit and will warm up as you get going.
What Is The 3 Layers Rule?
When cycling in the winter, you must try to protect yourself from the elements (rain, wind, and cold temperatures), which can be done through good perspiration management. 
A 3-layer system is a way to help you choose the right clothes according to the weather conditions.
Three layers of clothing are:
1. A base layer to remove any moisture
2. Mid-layer to keep you warm
3. Outer shell to keep you protected from the elements
Can You Wear Two Base Layers Cycling?
Yes, you can wear two base layers when you're cycling. Be careful not to restrict movement, though.
Two thin base layers can give you the flexibility to change as your ride progresses, rather than wearing one thick layer.
Are There Any Other Tips For Staying Warm While Cycling In The Cold?
Yes! Warm up indoors before heading out.
Also, remember to stay hydrated, as winter air can be very dry. Use neck gaiters or scarves to protect exposed skin, and invest in good quality, insulated water bottles to keep your drinks from freezing.
Final Thoughts
It might take a few rides to get to know what your body needs when it comes to layering for cold weather cycling, but it is worth persevering with as winter rides can be fun, and that's coming from a bit of a fairweather cyclist! 
Remember to apply the three-layer rule where appropriate, as that should set you up with the best chance of layering success! 
How often do you ride in the winter?