If you've cycled indoors without a fan, you'll have quickly learned that you need one. But which one?  
I've been doing my research and come up with a wide selection of the best fan for indoor cycling, so you don't have to! 
Don't want to read everything? My favorite is the Wahoo Kickr Headwind Fan. The technology in this thing is amazing. Get more airflow when you work harder? Bliss!
After a few more choices? Keep reading and stay cool! 💨💨💨
How To Choose The Best Fan For Indoor Cycling?
There are plenty of things to consider before you buy an indoor fan for cycling. So let's look at the important stuff!
Type Of Fan
The first thing to think about is what type of fan you want. 
I initially had a fan that I wanted to use in other rooms when it got hot. Think about whether you want to do the same as that will change the type of fan you might want to buy.
These are the most suitable type of fans when it comes to indoor cycling:
Desk fans
Pedestal fans
Tower fans
Floor fans
Something to keep in mind is that cycling fans aren't suitable and they aren't that good at keeping you cool anyway. 
USB fans won't be powerful enough so avoid those.
Desk Fans
Desks fans are a popular choice with cyclists as they are inexpensive and fairly quiet. That being said, if you opt for one of the cheaper models, they can be pretty noisy.
Another thing to keep in mind is that desk fans aren't as powerful as pedestal or tower fans. That doesn't mean you shouldn't consider them, desk fans still provide some relief and have positives.
Firstly, desk fans are compact so they're portable. This means that if you don't have a huge amount of space, they aren't going to encroach on that. They are also very easy to direct so you can aim where you want the airflow to go (straight in my face, thank you very much!).
Of course, this directed airflow can be a bit of a downside as it could mean that you end up needing more fans to generate enough air to keep you cool.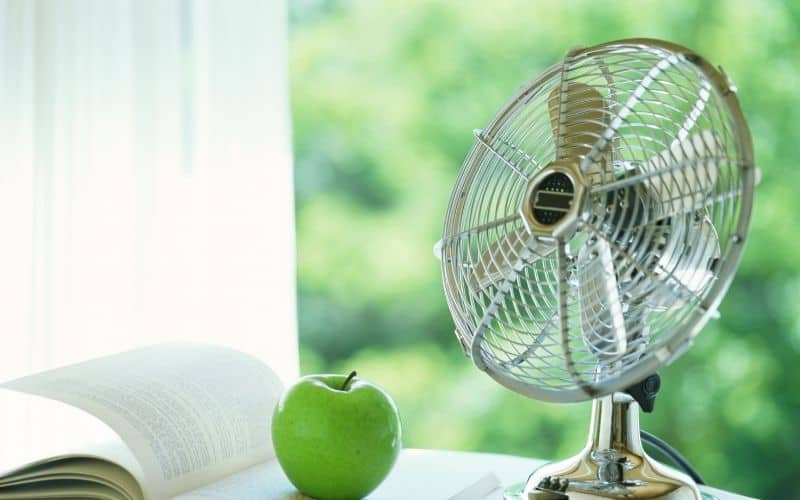 Pedestal Fans
I would place pedestal fans in the middle of desk and tower fans. Pedestal fans can usually oscillate, meaning that the airflow spreads to a larger area. This can be great for indoor cycling. 
Pedestal fans are popular for lots of reasons; they're adjustable, affordable, and versatile. They also don't tend to generate too much noise. 
One thing to keep in mind is that some models won't be stable enough so be sure to check this out.
Tower Fans
A tower fan wins the prize for best-looking fan and for some people that's important, especially if it's going to be on show in your home. 
Tower fans also don't generate much noise either so you can have a conversation in the same room with someone and it does not intervene – great news! 
It's all sounding awesome for the tower fan right now, however, unless you spend a decent sum, you're going to find that they aren't as powerful as a pedestal fan. So if you're going for maximum power, a tower fan may not be your answer.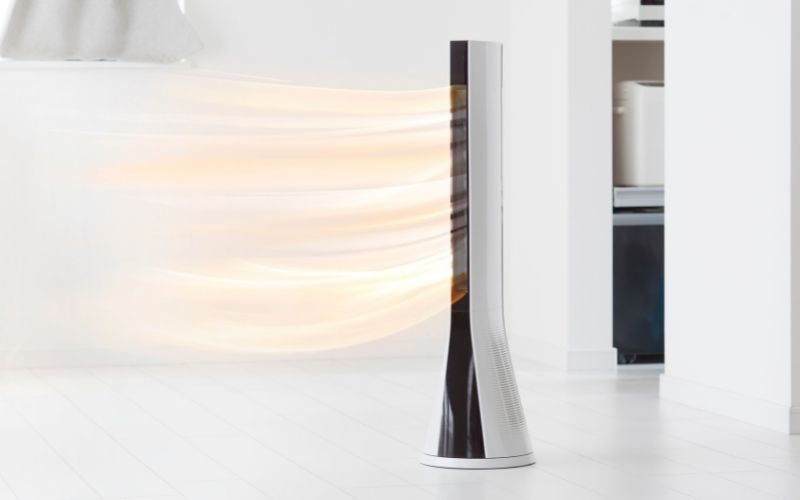 Floor Fans
Take a desk fan and enlarge it so that it can be placed on the floor, that is basically what a floor fan is. The big difference is that floor fans are usually very powerful. In some instances, they are actually too powerful for small spaces. 
Floor fans are super portable so you can move them around as you wish. I use one in my workout space. If I'm on the indoor bike, I aim it to blast my face (and it definitely does). If I'm on the treadmill, blast my face on that.
The downside to floor fans is that they can be pricey and can produce a fair amount of noise.
Remote
Ok so take it from me, this is worth considering. Does your fan have a remote or will you have to get off your bike every time you want to make an adjustment to it? 
My advice, get a remote.
Need somewhere to hang your phone? Check out the Best Phone Holders For Indoor Cycling.
Noise
If you can get a quiet fan, that's going to be better for you. However, the quietest fan may not be the best fan for you so there is going to be a bit of a compromise somewhere. 
Tower fans tend to be the quietest fans and floor fans are likely to generate the most amount of noise. Having said that, that's not always true and does vary depending on the model. 
One way to find out before you buy a fan is to check the decibel readings on the manufacturer's websites. 
Other Things To Consider When Buying A Fan For Indoor Cycling
Not all of this will apply to everyone as it depends on your setup and needs.
Weight and size – Especially important if you want to move your fan around
Power consumption – Bills aren't getting any cheaper.
Design – if your fan is going to be on show, you might want it to look nice, or not!
Ease of cleaning – You're probably going to sweat on it. Don't be an animal, keep it clean!
Related article – 5 Of The Best Floor Mats For Indoor Cycling
The 5 Best Fans For Indoor Cycling
The Vornado 660 fan is designed to sit on the floor or a desk. Now, it might look quite small but it's designed to circulate air in the entire room, being able to move air up to 100 feet. 
That sounds impressive, right?
The reality is more like 20 feet but that should be enough for the majority of indoor cyclists! 
There are four-speed settings on the Vornado and when you have it on its highest setting, it will be able to provide enough cool air for a large room.
One thing to note is that when it is in its highest setting, it does produce some degree of noise, as you'd expect. It's not horribly loud but you certainly notice this. This type of thing doesn't bother me when I'm indoor cycling, I just want to keep cool but it's worth mentioning!
The Vornado 660 fan works well to circulate cool air in all directions. This means that it won't direct cool air in one direction. Some people might like this, some might not. You do you! 
Moving onto the build quality, I have to say, it's superb and does have a premium feel about it. Build quality is important as fans for indoor cycling are likely to get a lot of use, at high settings in sweaty rooms so it's nice to know that the Vornado 660 fan should be more than up to the job.
---
The SkyGenius mini desk fan offers extremely portable and directional airflow. This fan is designed so you can clip it onto a surface or have it stand up on its own. In that sense, it offers versatility that other fans can't. 
With the SkyGenius fan, you also get that added benefit that it's battery-powered so you don't need to worry about where you're going to plug it into. 
In terms of battery duration, to be honest, you're looking at around an hour. Which for some people is going to be sufficient and other riders who prefer longer rides, might want to connect it to a power bank so you don't have to consider battery life. Charging it is simple, USB charging, just like your smartphone. 
The power it delivers is surprisingly decent. I wouldn't say it's going to be amazing if you're going full gas but it's certainly going to offer some relief. 
I do like how sturdy this fan is. It's the type of fan you'll throw in your luggage to take away when traveling and not have to worry about breaking. 
Overall, if you produce a lot of heat, you might not find this fan alone to do the job but it's a great addition and will provide you with some excellent additional cool airflow.
---
Alright, so if you're looking for something that looks stylish, you're going to want to look at the Honeywell QuietSet tower fan. There's more to this fan than its looks though. It features 8 different speeds so a decent amount of customizability. 
If I'm being honest, some of those speed settings aren't going to be great for indoor cycling. Settings such as "whisper" and "sleep" won't provide much cooling when exercising. Having said that, if you want a multi-purpose fan then, it works brilliantly. 
The controls are on the tower fan itself, though you do also get a remote so ideal for changing it up as your workout intensifies. There is a nice storage area for the remote when not in use too.
The base on the Honeywell QuietSet is very sturdy so it shouldn't go anyway unless you want it to.
I do like that this fan oscillates. However I don't find myself using that feature very much when I'm indoor cycling, I much prefer to have the air blowing constantly in my face. That may not be the same for everybody though so it's a nice option to have!
When you crank up the settings, it does get a bit noisy. This isn't something that I find matters so much when you're indoor cycling as it's likely your trainer is making noise (and might be too!). Though this may be an issue for you, something worth thinking about. 
Overall, the Honeywell QuietSet tower fan delivers good performance when it comes to keeping you cool while you train.
---
The Wahoo KICKR fan is the only fan on the list that was specifically designed for indoor cycling. 
This fan can produce over 30mph wind speed so it's going to keep you cool even during your hardest efforts. 
Not only that, this wind speed is targeted. You got it, targeted for cyclists. The airflow is designed to mirror the shape and position of a cyclist so it's getting where you want it to be. This can't be said for many fans, they aren't designed with cyclists in mind. 
If you like technology then this is going to appeal to you. The Wahoo KICKR HEADWIND can be controlled by how hard you're working.
What do I mean by that?
You can pair the Headwind to your ANT+ speed sensor, heart rate monitor, or your smart trainer directly. Once connected the fan will increase its speed as your heart rate or speed increases.
If that doesn't appeal you can control the fan speeds using a dedicated app. And if that doesn't suit you then you can control the KICKR HEADWIND manually using a button. Very accommodating! 
Manual controls are buttons, with four preprogrammed fan speeds so that you're able to find your ideal airflow.
Overall, the Wahoo KICKR HEADWIND is a fantastic bit of technology and it's designed with us cyclists in mind. It's pricier than the other fans on this list but it does offer more.
---
If technology excites you, then the Rowenta pedestal fan should too! With this fan, you get two more speed options than you normally get with pedestal fans but you also get powerful airflow. 
One of the most impressive features of this fan is how quiet it is. So a whisper is around 20 decibels and a quiet library is around 40 decibels, right? Switch this fan on and it runs at 35 decibels. That's right, not much more than a whisper and quieter than your local library. 
This all sounds good so you might be wondering about energy consumption. Well, the Rowenta fan features an energy-saving mode which should at least help to keep your bills down. 
You can have it so this fan oscillates and it does give coverage with a 16" diameter head. There are 5 blades. When in use, it delivers up to 2436 Cu. Ft/min of airflow – impressive stuff!
I mentioned the speed settings. There are 5 of them. 3 usual settings and two which are a bit unique. Turbo boost, for those moments when you're trying to set a PR on Alpe du Zwift and Silent Night mode when you want things very quiet.
The Rowenta VU5670 comes with a remote so you can change settings whilst you're riding. 
Overall this pedestal fan is a good option for cyclists who would like to use their fan for things other than indoor cycling. With the added extra of a powerful airflow, it should keep you cool when you're cycling but portable enough to use in other rooms too.
---
Final Verdict
There is a roundup of the best fans for indoor cycling! There's a bit more to fans than I first thought and finding the right one isn't as straightforward as it may seem. Do your research and you'll stay cool, even when you're at full gas.
Personally, I'm a big fan of the Wahoo Kickr Headwind Fan. You can tell it was designed for indoor cycling. It ticks off every need we have. I love knowing that it will give me more airflow when I kick up a gear. 
What does your indoor training setup look like?
Other indoor cycling reads: