Wheels. Nothing improves your bike's performance and handling like a new set of wheels. Unless you purchased a high-end bike, yours probably came with an average set. This is generally where manufacturers make the cut to ensure they're within budget.
No shame, but if you're looking to improve your performance, increase your speed, and comfort, then it's time for a new wheelset! We've reviewed the following wheelsets in this roundup:
The Basics About Wheelsets
If I have you excited, and you've done a quick search on the web, the first thing you'll encounter is sticker shock. Some wheelsets cost more than what you paid for your bike…maybe even for your car! Fear not. I'm going to review the 5 best wheelsets for under $500.
Aluminum vs. Carbon Rims
Wheels are either constructed of aluminum (aluminum for you blokes in the UK!) or carbon fiber.  The pros only race on carbon fiber wheels these days.  It's been a very long time since the Tour de France winner used a set of aluminum wheelsets!
Manufacturers have been able to iron out most of the problems with the early carbon fiber wheels. As with all cycling tech, this is now trickling down to everyday riders, albeit still at quite a premium!  This means that we have quite a few options available to us.  Here are some of the pros and cons of each type of material:
Aluminum wheels are:
Affordable
Easier to repair or true (i.e., straighten when there's a left-to-right wobble)
Support all tire types
Carbon fiber wheels are:
Top-end ones are VERY expensive
Extremely lightweight
Absorb road shock better
Trickier to repair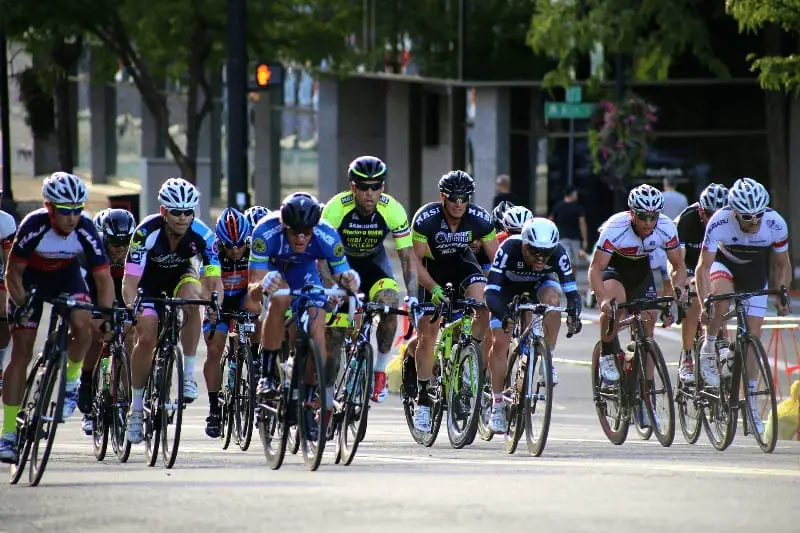 Freewheel Or Cassette?
When looking for new wheels, be sure they're compatible with your current freewheel or cassette. If you're unsure, check the manufacturer's website or watch the video guide below.
Freewheels are:
Typically found on older bikes
Gears are one unit that screws into the hub
Cassettes are:
Found on newer bikes
The gears are usually individual pieces and screw onto the hub
Are you still confused? Check out this short video by Park Tools for clarity.
Tires
Another thing to take into consideration is what type of tire you will be using. Not all wheelsets are compatible with all tires. There are three types of tires to choose from.
Clincher
Universally used and pretty much standard on all bikes; the tire "clinches" onto the lip of the wheel's rim. Within the tire is an inner tube.
Pros
Because they're popular, they're easier to find when it's time to replace or upgrade
Wide variety and manufacturers
Cheaper
Cons
More prone to punctures and pinch flats
Tubeless
Popular with mountain bikes, gravel, and cyclo-cross, they're becoming more common on road bikes. These tires attach like a clincher but there's no tube. Instead, a sealant is squeezed into the tire which helps reseal the tire should you have a puncture.
Pros
They can be inflated to lower PSI (pounds per square inch) making them more versatile for various terrain
More puncture resistant than the other two types
Cons
Flats do occur and dealing with the sealant is messy
If you are flat and don't have an inner tube to use as a quick fix, you may be stranded
Related article – Tubeless Vs Inner Tube For Commuting – Which Is Better?
Tubular
These are popular among racers because of their lighter weight and resistance to pinch flats. The inner tube is sewn inside the tire which is why they're also called "sew-ups". The tire is then glued (or taped) to the wheel.
Pros
Lightweight
Provide a more supple, smoother ride
Ideal for racing
Cons
Expensive
If one goes flat, changing tires is time-consuming
Here's a video explaining these tires.
What Wheelset Do I Need?
Answering this question is by far more important than those we just looked at. For instance, if you're interested in racing or doing triathlons, then I suggest looking into:
Carbon fiber wheels
Consider going with tubular tires
Bear in mind that these are extremely lightweight wheels that typically have higher rims than standard wheels. These types of rims can act like sails in crosswinds. This can be unnerving when it feels like your wheels are being kicked out from under you.
If you're a commuter, I'd suggest:
A good set of aluminum rims that are lighter than what you currently have. Check out the five we've reviewed below!
Stay with clinchers or try tubeless
Note: don't assume tubeless tires never go flat. I recently changed a flat for a new rider who had tubeless tires. I swabbed the sealant out, installed an inner tube, and he was back up and running. Personally, I'm not sold on them, but that's just me!
If you're the "roll to the pub" type of cyclist then save your money and stay with what you have. It's pointless to get faster, lighter wheels if all you're doing is riding for fun. However, for this bit of financial advice, you will owe me a pint if I'm in the UK!
Lastly, you can find killer deals on used wheels. In fact, all of my recent wheel purchases are used. One of the nice things about being a member of a cycling club or team is that riders are swapping or upgrading gear religiously. And since these are friends, you can trust their word (hopefully!) concerning:
How many miles are on them?
Have they been in a wreck?
Why are you selling them?
Related article – When Should I Replace My Bike Wheels?
Review Of 5 Road Bike Wheelsets Under $500
Ok with all that out of the way, let's roll on (pun intended :))! 
Due to our budget for this review, none of the following wheelsets are carbon fiber. In fact, if you find new, carbon fiber wheels for under $500, remember: "If it sounds too good to be true, it probably is." Bearing that in mind, let's get started.
Ahh, Campagnolo; the Italian patriarch of contemporary cycling. This aluminum wheelset is designed for wider tires (like 25-28MM) which, even in the world of racing, are becoming standard. And wider tires generally mean a more comfortable ride. The unique design of these wheels eliminates the need for rim tape. Designed for 11-speed cassettes, the Zonda is reported to be fast but stiff, which some say gives them an uncomfortable ride.
---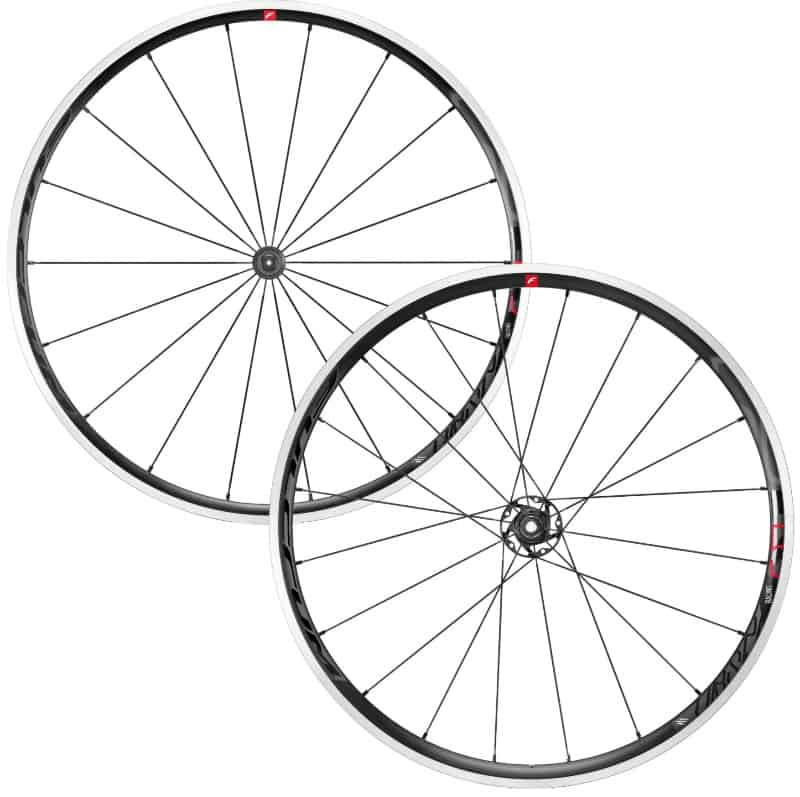 Another Italian manufacturer, Fulcrum, brings a titan to the fray: the Racing 5 C17. Noted for delivering superb performance, comfort, and efficiency, these clincher wheels are priced to not break the bank. The Racing 5 C17 are ideal if you're considering racing, or sportifs, or Gran Fondos. The wheels are compatible with Shimano or Campagnolo cassettes and disc brakes, so make sure you order the correct wheelset for your bike.
---
If your bike has disc brakes and uses tubeless tires and you want to go faster, then the Attaquer wheelset may be for you. Weighing in at 1,470g, they are the lightest wheelsets in our review which, if you want to climb better, will help. Aerodynamics is improved (this helps with speed, too!) by using DT Swiss spokes. And although classed as a racing wheel, riders have used these for cyclo-cross, gravel, and even commuting.
---
Shimano has produced top-quality components for years so it's no wonder that they also manufacture wheelsets. This aluminum wheel (for rim brakes) is designed for tubeless tires if you are interested. Riders comment that although the wheelset is not quick at accelerating, once up to speed, they maintain momentum quite well.
---
This aluminum wheelset has a striking look and even the skewers have the Vittoria logo. Like many wheelsets, the Alusion is tubeless-ready and Vittoria describes them as "fast and semi-aero wheels" that make for a "rigid, durable, and reliable wheel". Although, on the heavier side, riders comment that nonetheless, the wheels are fast and responsive. The freewheel has a pleasant mechanical sound, but that is quite a subjective topic!
---
Final Verdict
If you've read any of my past posts then you know my passion for Italian bikes and components can be a bit…obsessive. But when it came down to the facts, I skipped over Campagnolo (boy, that was hard to say!) and chose…
The Prime Attaquer Road Disc Wheelset!
Although they can't be used with bikes that have caliper brakes, this wheelset blew the others out of the water. Here's why:
Lightweight – trimming off weight goes a long way when climbing hills. Unless, of course, you're a masochist and love to suffer slowly grinding up hills :).
Fast – I know not everyone races or cares about speed but even so, it's great to have a set of wheels that perform and use your energy efficiently. This will come in handy on those sportifs, a Gran Fondo, or if you commute.
Durable – The last thing you need is a set of prima donna wheels that need truing regularly or can't handle the wet or the mud or the rocks. The Attaquer seems to be able to handle any terrain you tackle.
Classic look – Yeah, I know: "beauty is in the eye of the beholder." But for me, the Attaquer fits in the "less is more" category per its looks.
Amazing price point – Take all the above and add in the fact that you save money (or a few quid for the British readers!) and the Attaquer is a clear winner. Great overall value for money package!
I hope this helps when it's time for you to shop for a set of new wheels. And remember, keep the rubber side down!
Looking to pick up a new road bike? Check out one of these: