Can an affordable trainer really offer a top-notch cycling experience? Eager to find out?
Narrowing down the best budget bike trainers can be a spin of its own. Armed with insights from dedicated cyclists and my own indoor training sessions, this guide aims to make your selection process smoother.
It's ideal for those new to indoor cycling or anyone looking to get quality without a hefty price tag.
Let's pedal into the best budget bike trainers on the market!
In A Rush? Here Are Our Top Budget Bike Trainers
Pros:

Easy to set up

Eight resistance settings

Wide base and low stance for incredible stability

Compatible with most bikes

Pros:

Easy to store and setup

Great bike compatibility

Heat resistance adds to durability

Precision-balanced flywheel for a smooth ride

Pros:

Made from carbon steel

Stability features like anti-slip pads

Noise reduction

Compact and easy to transport

Pros:

Wide and low base for stability

Quiet, fluid resistance system

Replacement parts available

High weight capacity
Reviews of The Best Budget Indoor Bike Trainers
Best Overall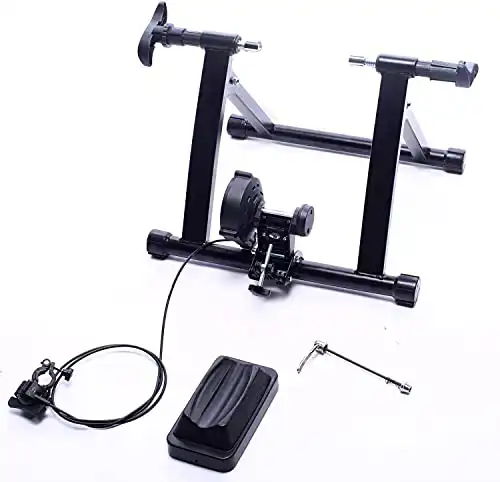 Pros:
Easy to set up

Eight resistance settings

Wide base and low stance for incredible stability

Compatible with most bikes
Cons:
Loud noise when using rough tires

Lack of advanced features
View On Amazon
View On Walmart
This simple, affordable device turns your regular bike into a stationary exercise machine. But how does it perform, and is it worth buying?
The BalanceFrom Bike Trainer is a tire-drive trainer. It uses a magnetic resistance unit that presses against your rear wheel. It has a front wheel riser block that levels your bike and prevents it from moving.
The trainer is easy to set up and release, thanks to the quick-release clamp that attaches to your rear axle. It also has a handlebar-mounted resistance controller to adjust the resistance level among eight settings.
Any mountain or road bike with a 26 to 28-inch or 700c wheel is compatible with this trainer.
The bike trainer operates quietly, so you won't disturb others while training. You can enjoy your workout without worrying about noise complaints from neighbors or family members! However, the noise level increases if you're using particularly rough tires.
This bike trainer may not meet your expectations if you want advanced features such as built-in training programs or virtual ride simulations. It's a basic model that focuses on providing a solid riding experience.
Overall, the BalanceFrom trainer is an excellent choice for cyclists who want to stay in shape during the off-season or when outdoor cycling is impossible due to weather conditions.
It's suitable for beginners and experienced cyclists who want to maintain their fitness or improve their performance.
Quiet Trainer
Pros:
Easy to store and setup

Great bike compatibility

Heat resistance adds to durability

Precision-balanced flywheel for a smooth ride
Cons:
Roller can heat up and accelerate tire wear

Limited max resistance
View On Amazon
View On Walmart
The Saris Fluid 2 uses fluid resistance to provide a smooth, realistic ride that adjusts to your speed and gears. It is also compatible with a Zwift setup, allowing you to join virtual rides and races with other cyclists worldwide.
This is one of the quietest bike trainers in this price range, hitting 64 to 68 decibels when cycling at 20 miles per hour.
It offers a smooth and responsive road-like feeling that optimizes your training. It does this using its precision-balanced flywheel with a patented fan design. This makes it possible to effortlessly change gears like you would if you were on the road.
Bike compatibility is well thought out. The 2-inch unit roller accommodates wheel sizes, including 650b and 700c, 26, 27, and 29 inches. A quick-release skewer has three settings to manage different rear dropout spacings depending on your tires.
The installation process is easy, thanks to the trainer's foldable frame and spring-loaded lever.
Despite the self-cooling mechanism, extended trainer use can cause the roller to heat up, increasing tire wear over time. Saris offers an indoor trainer tire for this reason. Another durability factor is the alloy roller that prevents tire slippage and reduces tire wear. 
Additionally, some riders may need more than the trainer's maximum resistance for training.
The Saris Fluid 2 does not have all the features of a smart or turbo trainer. However, given the price point, most cyclists will appreciate the stellar build quality and reliability they get from this device.
Most Compact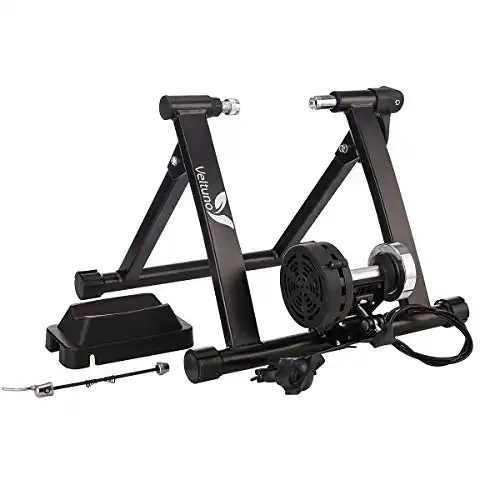 Pros:
Made from carbon steel

Stability features like anti-slip pads

Noise reduction

Compact and easy to transport
Cons:
Limited connectivity features

No built-in power meter
View On Amazon
The Veltuno is a compact device with eight responsive resistance levels. They graduate in degrees of difficulty, from a flat-road feeling to sand and, finally, slopes.
A magnetic resistance mechanism and a noise reduction wheel keep things quiet. This makes the trainer suitable for those living in small apartments and condos so as not to bother anyone around them.
The trainer is built to last, with a sturdy frame that can withstand intense training sessions. It provides excellent stability, ensuring you can focus on your workout without wobbling or shaking.
It has anti-slip pads and a front wheel riser block to prevent the bike from shifting during use. This ensures safety and prevents any potential damage!
Portability is simple here, thanks to the easy-to-fold frame made from carbon steel. This material is one of the lightest yet strongest options for such devices.
While the Veltuno excels in performance and durability, it lacks advanced connectivity features such as Bluetooth or ANT+ compatibility. If you're looking for a trainer that can sync with fitness apps or provide real-time data tracking, this might not be your best option.
Another drawback of this trainer is the absence of a built-in power meter. Invest in a separate power meter if you're serious about tracking your power output during workouts.
Most Durable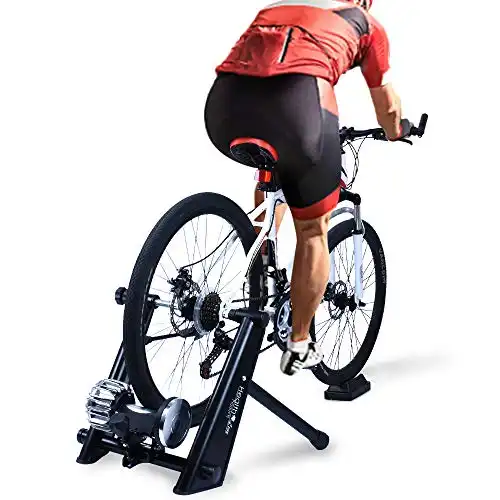 Pros:
Wide and low base for stability

Quiet, fluid resistance system

Replacement parts available

High weight capacity
Cons:
Limited resistance levels

Difficult assembly
View On Amazon
View On Walmart
This Health-Line model is a bike trainer with a maximum load capacity of 370 pounds. It has a broad and low base, ensuring your training safety and stability. 
Standard-sized wheels, like the 700c, can easily attach to this device. You can do this with or without using the quick-release mechanism. 
The noise level is comparable with premium bicycle trainers thanks to the fluid resistance. This makes it ideal for small apartment spaces. 
To top it off, Health-Line offers excellent customer service and after-sale repairs. You can get replacement parts, too, if necessary, along the way.
The Health Line trainer may not offer enough resistance for some advanced riders. Although it has eight resistance levels, some riders may find them too easy or similar.
If you are looking for a more challenging or varied workout, consider other types of bike trainer stands.
Additionally, some riders found it difficult to assemble. The instruction manuals aren't very clear, and you may have to search elsewhere for answers.
How To Choose a Budget Bike Trainer
A bike trainer opens a new set of possibilities for novice cyclists. It allows you the flexibility to train at home during bad weather. Choosing a budget bike trainer can be challenging, given the variety of options available. 
Whether you're training for a race, trying to maintain fitness during the off-season, or simply looking to cycle indoors, a bike trainer can be a great tool.
Below are a few key considerations to help you choose a budget-friendly bike trainer.
Potential Resistance
This is the maximum power output the trainer can accommodate. It's measured in watts, and a cyclist's power output varies depending on factors like fitness, skill level, and training age. 
Bike trainers have progressive resistance levels. Seasoned cyclists who have the strength and endurance may find a low resistance level not challenging enough. If you fall into this category, you'd want to aim for closer to 1,000 watts.
However, this resistance isn't necessary for beginner to intermediate cyclists and will cost you more. Opt for between 250 and 600 watts, depending on your training age and goal.
The best bike trainers offer varying resistance levels, allowing you to become a better cyclist over time!
Type of Trainer and Noise
No one wants a noisy bike trainer; your chosen type can make a big difference. The three common varieties of bike trainers include:
Wind resistance
Magnetic trainers
Fluid trainers
Wind resistance trainers are often the cheapest but also the noisiest. This makes them unsuitable for people living in apartments with thin walls. Unless you have very accommodating neighbors 😉.
Fluid trainers and magnetic bike trainers are quieter, but the improved aerodynamics come at a cost.
Manufacturers provide decibel readings to measure the noise a bike trainer generates. This way, you can understand what sound level you're getting when shopping for a bike trainer. 
Your best options will be around 70 decibels maximum or less.
Fluid trainers might be more expensive, but you could score a quiet, budget-friendly model, like the Saris Fluid 2. It's one of the cheaper options on this list, with a decibel range of 64 to 68.
Durability
Unfortunately, durability is a challenge on a budget. If you use your bike trainer regularly for intense workouts, you should opt for a better-quality build trainer.
As with most workout equipment, spending more upfront may result in spending less in the long run. However, you might be able to find some durable features in budget options if you're strapped for cash.
Features include:
Frame material: Light and robust materials are best, with aluminum being a middle-range option.
Replacement parts: The bike trainer should be easily fit with accessible replacement parts in case something happens.
Weight limit: If you're on the larger side, ensure the trainer offers an appropriate weight limit, with some to spare.
If you can find a bike trainer with heat-resistant features (I couldn't in this roundup!). This is even better for durability. This means the trainer parts shouldn't face corrosion due to the temperature buildup during your training.
It is hard to find on-budget options, but it is worth keeping in mind.
The Health-Line Bike Trainer Stand is an excellent example of a durable product on a budget. Unfortunately, it doesn't feature heat resistance but can hold up to 370 pounds.
Bike Compatibility, Foldability & Portability
This shouldn't be a problem for most beginner to intermediate cyclists. Most triathlon and road bicycles are compatible with most trainers today.

Fancy bike models with novel and unconventional frames might be an issue. If you own one of these, double-check this factor when shopping.
Additionally, if space is a concern, look for a trainer that folds up for easy storage. Check out this post for ways to store your bike inside an apartment.
Tech Features
Once used by pro cyclists, manufacturers often incorporate this tested technology into their products. This then slowly trickles down to the budget options after a few years.
Some consumers appreciate the latest and greatest tech, including heart rate monitors or integrated online workouts. But again, a smart trainer like this comes at a cost! You can check out my review of the Wattbike Atom.
If these features aren't necessary, save money and opt for a simple machine instead. And in case you're wondering if Zwift works without a smart trainer.
Frequently Asked Questions
How do cheap bike trainers compare to smart trainers?
While budget bike trainers provide basic resistance and a platform for indoor cycling, smart trainers offer connectivity features like syncing with virtual training apps, automatic resistance changes based on virtual terrains, and detailed performance data.
If you're on a tight budget but want smart features, look for budget trainers with basic app connectivity.
How does resistance type impact the price and performance of budget bike trainers?
There are various resistance types, including magnetic, fluid, and wind.
Typically, magnetic trainers are more budget-friendly but might not simulate outdoor riding as closely as fluid trainers.
Fluid trainers, while slightly pricier, offer a more realistic road feel. Wind trainers are less common and can be noisy but are another budget option.
Do I need a special tire for my budget bike trainer?
Some cyclists prefer a trainer-specific tire because it reduces noise, wears out less quickly, and offers a better grip. It's not strictly necessary but can enhance your indoor cycling experience.
Can I use my mountain bike with a budget bike trainer?
Many budget bike trainers are versatile and compatible with road and mountain bikes. Ensure your trainer can accommodate your bike's wheel size and axle type.