Indoor cycling is now becoming increasingly popular. Cycling enthusiasts can now complete their daily workout from the convenience of their own homes. When I got my first smart trainer, I would get bored, staring at my living room wall for hours. Thankfully, the arrival of Zwift revolutionized things, and connecting Zwift to Garmin made things even better.
Zwift connects your smart bike trainer to your PC/laptop, phone or tablet. Zwift works with any devices that use ANT+ or Bluetooth Low Energy. Garmin devices that work with Zwift include:
Garmin Forerunner 945
Garmin Forerunner 245
Garmin Forerunner 245 Music
By connecting Zwift to your Garmin device, you'll be able to keep track of vital information on power, speed, heart rate, and cadence.
In the subsequent sections, we will learn how to connect Zwift to Garmin in easy-to-follow steps.
Step 1: Pairing Your Devices
The general steps will help you pair Zwift and Garmin and are suitable for most hardware. Before you begin pairing, switch off anything that can possibly connect to Zwift or your smartwatch. These include third-party apps that may be open and running Zwift or any open training apps. Any third-party app running in the background may interfere with Zwift's ability to detect your Garmin smartwatch.
Open Zwift on your device
Key in your details to log into your personal Zwift account. If you do not have an active account, you'll need to create one.
After successfully logging in, two primary buttons, Ride or Run, appear on the screen. Select Ride.
Tap on Search and scroll down to the list of devices you can pair via the ANT+ and BLE
Select Garmin, then Pair
Press OK once the pairing process is complete
Please note that Zwift for riding doesn't support the older USB 1 ANT+ dongle. Ensure that your Garmin device supports this technology; if not, get a USB 2 ANT+ dongle.
Related article – How To Setup Zwift On Your TV
Step 2: Garmin Watch Setup
Once you have paired the two, it is time to set up your Garmin watch. Follow the steps below:
Begin by tapping Start, located on the top right
On the bottom left, press and hold the Start button until you see the +Add
Keep scrolling and stop when you get to the Bike
Tap on the Start button
You can now start the ride
Older Garmin smartwatch models do not support a direct watch-smart trainer connection. You will need to use a Garmin Connect sensor as an intermediary.
The best part about using the Garmin smartwatch for Zwift rides is that it monitors your heart rate. Thanks to Garmin's Elevate technology, you can see your beats per minute and learn about the heart rate zone. What is more, you get all this data in real time without needing a chest strap.
Interesting read – How To Ride Alpe Du Zwift – A Beginner's Guide
Frequently Asked Questions
Below are answers to some of your questions about Zwift.
Can You Link Zwift, Garmin, And Strava Together?
If you use both Garmin and Strava and are thinking about connecting them, you aren't the first! Connecting Zwift, Garmin, and Strava works just fine. 
However, there have been issues with the double entry of data. Luckily, Strava identifies and eliminates all duplicate activities. I will show you how to connect the three programs below.
The easiest way to sync everything is to go to Zwift, sign in, go to profile, Connections on the right and connect your Strava/Garmin account.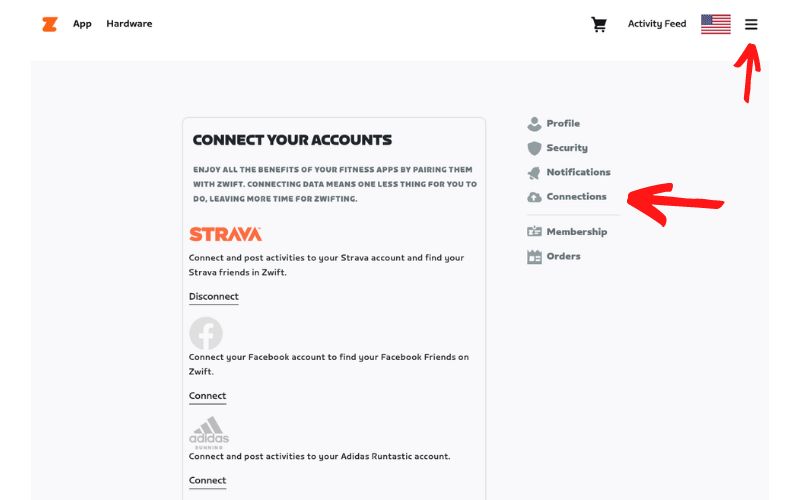 You can do the same through the phone/tablet under the "More" menu. You can find the "Connections" under Settings.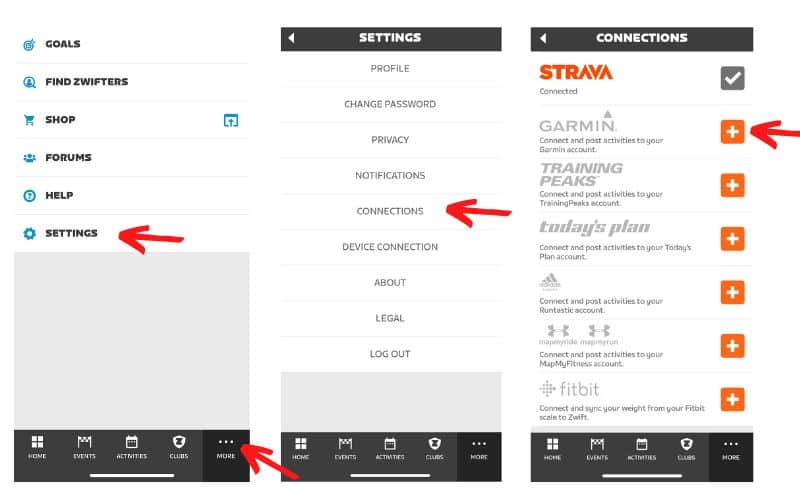 Check this out for a more detailed guide on How To Connect Zwift To Strava.
Can You Connect A Garmin Heart Rate Monitor To Zwift?
Yes! You can connect a Garmin heart rate monitor to Zwift effortlessly.
Keeping track of your heart rate during exercise is an indispensable ritual in any training program. A heart rate monitor informs you when you speed up or reduce your effort to achieve fitness objectives.
Zwift supports multiple HR models, including smartwatches and chest bands, as long as they have a BLE or ANT+ connection.
I will guide you in the steps below on connecting a Garmin heart rate monitor to Zwift.
Log into Zwift.
When the Paired Devices screen appears, look for the Heart Rate icon. Select Search.
Tap to highlight the HR monitor, then select OK
The Garmin HR and Zwift will now connect automatically
Sometimes things don't usually work out. In case the two fail to pair, check other running applications that could be connected to your Garmin Heart Rate monitor. If you find them, force quit, then proceed with the disconnection procedure.
In some instances, the HR monitor's battery might be low; therefore, needing changing before using the device.
Related article – How To Change FTP On Zwift
Can I Use My Garmin Watch For Zwift Running?
Yes! Garmin smartwatches have the Virtual Run Feature that works with paired third-party apps such as Zwift.
The watch then transmits cadence, pace, and heart rate data via Bluetooth. You can use the Virtual Run feature with built-in or external sensors such as foot pods or heart rate monitors.
A Wrist-Based Accelerometer
In the absence of a foot pod or any other speed sensor for Zwift, you can use the Garmin smartwatch to move your avatar.
Just select Virtual Run on your Garmin device, go to the Zwift's Pairing screen, and you will find your device on the list ready to connect as a Speed Source. It can also work as a Heart Rate and Cadence source.
Please note using your Garmin as a speed sensor for Zwift has its weakness. It is pretty unreliable because it detects movement when you swing your arm. On the contrary, it is better than nothing and will help you get used to Zwift running.
Pairing Older Devices
Another advantage of the Garmin watch is that it allows you to connect other running devices to Zwift. Older devices such as foot pods run on ANT+ technology alone which doesn't work for Zwift. If you intend to use such outdated items, the Virtual Run profile in your Garmin device will act as a bridge. Connect them with the watch as usual, then rebroadcast the information to Zwift over Bluetooth.
Data Recording
The Virtual Run feature of the Garmin watches enables you to record your activities on Zwift as well as built-in memory using similar sources. It helps to have a backup in case one device misbehaves, so you don't lose all your data. Furthermore, using similar data sources for cadence, HR, and speed ensures consistency of information for the two activities.
Final Thoughts
Connecting Zwift and Garmin watches has greatly aided my exercise routine. The feature enables the user to run or ride in Zwift by triggering the avatars to motion. This is possible through the Virtual Run profile present in most Garmin models. Moreover, you can record daily activities on the watch or in the Zwift app over Bluetooth.
You may also like to read: