Hybrid bikes are gaining popularity and it's easy to see why. They take the best features from a road bike (speed, agility) and combine with the benefits of a mountain bike (flat bar, wide tires). Their versatility is why they're the top choice for commuters, fitness enthusiasts, and leisure cyclists.
Here are the hybrid bikes that I've reviewed in this article:
Before I launch into the detailed reviews, let's break this down so you have a better understanding of what to look for.
What To Look For In Hybrid Bikes Under $500
With hybrid bikes, you'll generally get something that's pretty comfortable. One reason hybrids are more comfortable than road bikes is because you sit more upright and put less strain on your back. Stick on a bike phone mount and saddle bag and you've got yourself a nice little commuter bike! Here are some other features which make a hybrid a comfortable ride:
Frames
Most hybrids are made of aluminum because it's an inexpensive and lightweight material. Aluminum frames are responsive which means the bike "responds" quickly to your pedaling power. This is good if you like quick starts and speed. The bad news, however, is that aluminum bikes are rigid so you'll feel every bump ("road shock") as you ride. To counter this, some manufacturers add a front suspension or construct the fork out of steel or carbon fiber to soften the ride. Steel frames are great at absorbing road shock but they're heavier.
Tires
Tires impact how soft and comfortable the bike rides. The principle is very simple: the wider the tire the more cushioned you are because there's more air supporting you. Keep the PSI (pounds per square inch) on the low side to add even more shock absorption.
Related article – Best Hybrid Bike Tires – Reviews And Buying Guide
Saddles
If you want the most "cush for the tush," a standard saddle with plenty of foam is the ticket. If you are speed or finesse focused, you need a firm saddle like those found on road bikes.
For additional information, check out this video by Evans Cycles.
Commuting 101
If you're considering commuting on a hybrid, use these questions to narrow down your choices:
How Far Will You Commute Each Day? 
If work is only a mile from your home, then you don't have to be as finicky about what you ride. If your commute is 10 miles, then you need a safe, reliable, comfortable bike.
If you're looking for something with a bit more speed, consider using a road bike for commuting.
What Type Of Surface/Terrain Will You Ride On? 
If you're biking muddy paths or gravel roads, you need wide tires to dig into the muck and rocks. You may also want to consider a bike with front suspension to smooth out the ride. If you're on city streets, then you can get by with narrower, smoother tires and no suspension. Either way, consider a hybrid that has (or allows you to add) fenders. Nothing worse than getting to work with road grime all over your backside!
How Hilly Is Your Commute?
If you live in Kansas, then you can get by with a "fixie" (slang for fixed gear). If you have rolling hills or steep gradients then a bike with gears will make climbing easier.
Will You Carry A Briefcase?
Or any other type of bag for that matter. If so, then a hybrid with a rack on the rear (or one that has eyelets for a rack) is the way to go.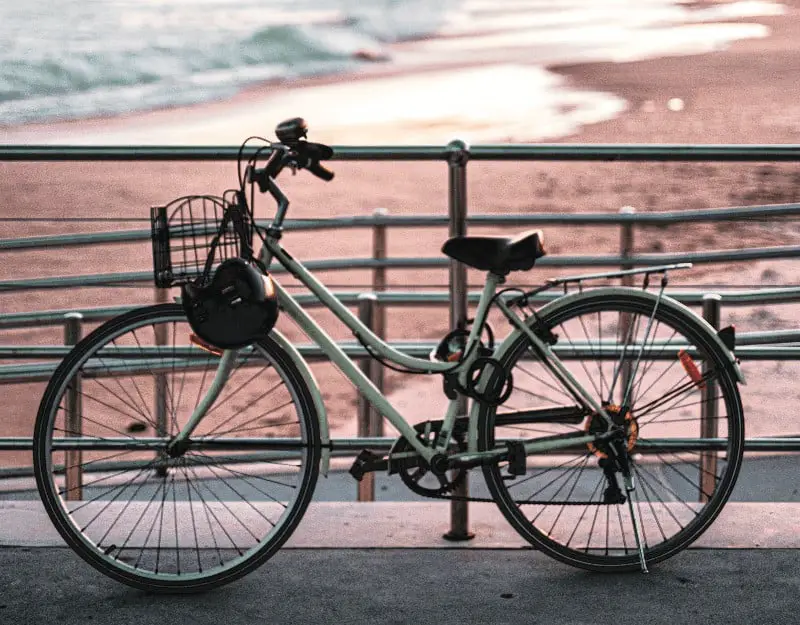 The Best Hybrid Bikes Under $500 Roundup
This company started in a Southern California garage back in 2005 and has a SoCal Coolness about it. I also like the fact that the rack is standard.
Keep in mind this bike has lower-end components and is more of a cruiser bike than it is a commuter or off-road bike. But if you're looking for something to roll to the coffee shop, and you don't have major hills to climb, this bike will suit you well.
---
Schwinn bikes have been around forever! Okay, that's not true, but they have been in business since 1895. The bike's name sums up its mojo…comfort. The padded seat combined with the front shock absorber will give you a smooth, comfortable ride. All in all, this is a great, versatile bike. I wish it had eyelets for a rack or fenders!
---
Vitus began making bikes in France back in 1930 and was successful until 2008 when they fell on hard times. In 2009, some bike engineers in Northern Ireland purchased the Titus brand to continue the legacy. This bike made me sit up and take notice.
This bike is versatile and can be used for commuting, off-roading, or leisurely riding. The saddle is in the road bike style, which may not suit some, but if you're wanting a fast hybrid, you need this saddle. The 7 gears may limit some riders in hilly areas but since it's one of the lightest reviewed, you may not need them.
---
If simplicity is your thing, this bike is for you: no gears to shift or brakes to tweak. Even the paint job and decals are minimalistic and the head badge (their logo on the front tube) is stunning. Designed in LA, this bike has a steel frame that will give you a smooth yet responsive ride.
This bike is limited to urban use as long as you don't have steep hills. Regarding the slick tires, you can always replace them with all-weather tires.
---
Giordano brings the styling and glorious history of Italian craftsmanship to budget-minded cyclists. The company is based out of New Jersey and is noted for delivering safe, well-made bikes at a great price point.
This is a versatile bike at a great price! Subtle details like running the rear derailleur cable through the frame put it in a class above others similarly priced. The eyelets allow for a rack, ideal for commuters, while the wide tires (40mm) and front suspension will give it a smooth ride. Although the saddle may not be the first pick for some, the fact that the railing is numbered (something you only find on expensive saddles) will be helpful when dialing in the perfect saddle position.
---
And The Winner Is…
This came down to a photo finish between the Vitus Dee and the Giordano Brava. In the end, Giordano Brava took first place.
Is it because I'm a sucker for Italian bikes? Well, yes I am, but that's not it at all. Here's how it was decided:
Comfort and Versatility – The Brava offers comfort with wide tires and front suspension. Versatility is showcased by the eyelets for a rear rack and that it can serve as a beach cruiser or a fitness bike.
Gears – The Brava has more gearing than the Vitus so you can tackle any hill with confidence and ease.
Tires – The Brava uses standard tire sizes while the Vitus Dee has 29ers which could be difficult to find.
Classy – Routing the cable through the frame and the measurements on the saddle rail is what pushed this bike into first place.
I hope this evaluation has given you the confidence to choose a bike that works best for you. Any questions or comments, please pop us a message down below. Thanks for reading!