If you enjoy biking off-road and on the street, you shouldn't settle for the bikes that are commonly displayed at your local box store. To ensure that you don't end up with a frail metal work of art, it's advised that you do your homework before grabbing the first mountain bike that you encounter. All too often, many consumers make this mistake and find out the hard way that the bike they just purchased isn't right for them.
We've picked six review bikes that are durable, contain multiple speed shifts, and all under the $500 threshold. Start with these and you won't be disappointed. Check out the picks below or scroll further down for longer reviews of these bikes plus buying advice. So without further delay, let's begin!
Not sure where to start? What features should you look for and how can you find the best value for money mountain bike? Check out our guide below so you can get the best bang for your buck!
How to Choose a Good Mountain Bike
With mountain bikes, you're not looking for training wheels. You want something that's rugged, doesn't rust easily, and can make it through varied terrain. Buying online can be a bit tricky since you're unable to inspect the bike prior to its purchase. If you're really struggling, we suggest you pop down to your local bike store and ask for some in-store help.
Frame Material
At this price point, you'll likely find an aluminium, aluminium alloy or steel frame. This results in a relatively lightweight but very durable bike.  Mountain bike frames are also considerably thicker than road bikes to allow them to cope with the harsher terrain. Otherwise you'd find quite a few cracks in your frame!
Titanium and carbon fiber are even lighter, but are very expensive. So only look at these types of bikes if you're looking to make a serious investment into mountain biking!
Getting The Correct Size
Size is probably the single most important thing to consider when you're shopping for a new bike.  For almost all bikes, this is determined by the bike's frame size. This can vary depending on the bike you're looking at, so go by the manufacturer's sizing chart that's provided for the bike if you can. Measure your height in either inches or centimeter, then see what bike size it falls under on the chart. 
Check out our bike sizing guide for more information.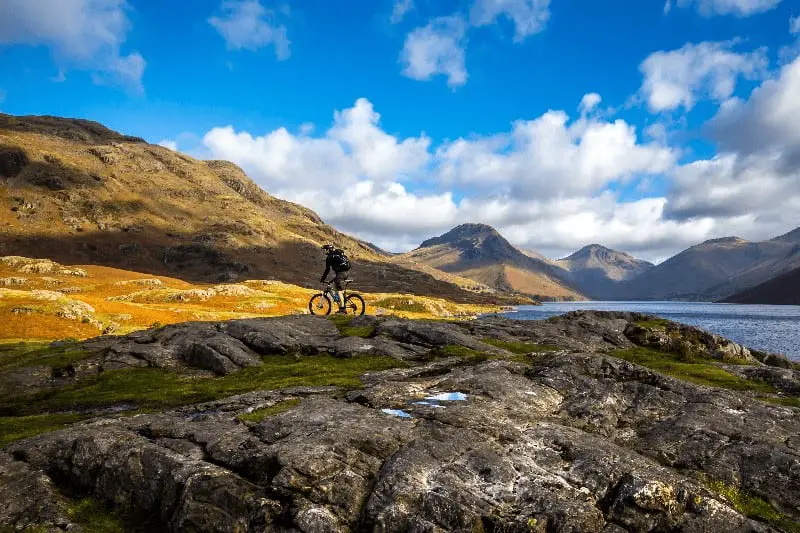 Anticipated Terrain
Most buy mountain bikes for riding in a variety of ground conditions. A majority of mountain bikes will easily travel over asphalt and concrete, not just dirt roads. As with any off-road bike, check to see if the tires are adequate. If you're not satisfied with the factory tires included with your bike of-interest, don't hesitate to change them. You don't want to be on a good biking trail to have a bad pair of tires give out on you at the first sign of a jagged rock!
Related article – Best Bike for Flat Trails – Ride On!
Choosing Based on Biking Experience
Some mountain bikes are easier to ride and control than others. For instance, if you're new to riding on trails, it might take a moment for you to find a gear that is comfortable for you to move uphill. With some models, it could be exhausting to do. For easier maneuvering, more gears are usually better.
Related article – Gravel Bike vs Mountain Bike – Best For Off Road Riding?
Recommended Accessories
As with any bike, you'll want to have a few handy accessories nearby in case something occurs. You never know when your front and back tires could become damaged. A bike pump is a good addition, along with a digital bike speedometer if one isn't available on your smartphone. 
Speaking of which, you could also use a dock for the phone, then place it on the handlebars. Other important accessories could be lubricant for realigning the chains, additional seats, and reflectors (for the bike and your clothing). Looking for what to wear mountain biking?
Related article – Best Indoor Mountain Bike Trainers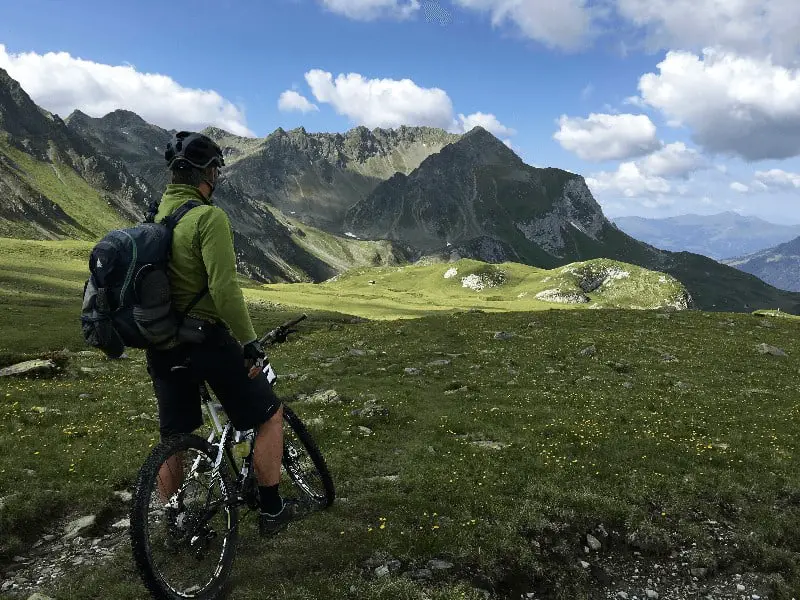 Top 6 Mountain Bikes Under $500
The Mongoose brand produces outstanding mountain bikes with great shock absorbing features. The Dolomite bike doesn't disappoint. 
It has two large tires that are thick, which is able to stand up to rough edges and uneven ground without breaking a sweat. For larger individuals, the bike stays comfortable, no matter the ground you're riding on. 
Assembly is very quick, thanks to the easy-to-follow instructions provided. Expect to have the bike ready to go in less than an hour. Highly recommended!
---
Next up is the Schwinn High Timber, a sturdy bike with strong shock absorbers that'll keep your ride and balance in harmony. It travels over rocky ground easily, and never skids when things get wet. 
The brakes are also very strong, able to come to a full stop very quickly. There are also mounts pre-built into the bike. This allows you to hang the bike on a bike rack, so be sure to get one if you don't have one already!
There's several heights to pick, and the frame is strong enough to handle 200 pounds or more without any issues.
---
The Trek Marlin 4 is recommended for riders that place posture as a priority. The handle and pre loads are adjustable, which helps to maintain balance of the bike at a level that feels more tailored. As a result, you can expect to ride the bike for longer periods of time without feeling fatigued in your core and legs.
The wheels are 29 inches, a great diameter for surfaces that's riddled with unpredictability. No more will you total your tires when encountering a pothole!
---
The GT Aggressor Expert 29 has the look that screams power. Yet surprisingly, it's quite light in weight. A majority of the frame is aluminum and made to withstand the brunt of any outdoor setting you travel with it around.
It's suitable for virtually everyone, owed to its multitude of sizes and colors for customers to pick. It even includes two tool pieces to help during the assembly, which shouldn't take long given that most of the parts are already put together.
---
The Schwinn Axum Mountain Bike has a similar look and feel to the other bikes in this round up. It is very easy to handle in smooth and bumpy environments. However, this has one advantage is that it's sizes are suggested for tall individuals. If you or someone you know is over six feet and needs a bike, this model is a good place to start.
When on the bike, it's easy to feel the balance, keeping you upright during inclines, declines, and compacted ground. The pedals can get a little slippery, so try wearing a pair of slip-resistant shoes or ankle boots when riding.
---
Last but not least is the Giant ATX3 Disc. This mountain bike is an all rounder that is able to cope with on road and off road conditions. It has even been touted as a bike that can be used as a daily commuter.
The frame has been constructed with Giant's proprietary aluminum, ALUXX. This results in a lightweight and durable frame. The bike comes with 26-inch or 27.5 inch wheels depending on the frame size.  The bike features a disc brake that performs well in all weather conditions, definitely something you need when flying down a hillside! It's also equipped with a Shimano drivetrain and an SR Suntour suspension fork.  This helps to reduce the bumpiness of the ride and helps with control of the bike when off-roading.
---
Final Thoughts
Which mountain bike is our favorite? Each has advantages that'll offer you something to make your outdoor biking adventures easier, safer and more fun. There's one that meets the standards of having the most useful features. That's the Mongoose Dolomite.
If you prioritize strong tires, easy to manage assembly, and excellent handling, this is the right mountain bike for you. But don't sleep on the other four if one of them catches your eye instead. There's no bad choice here, and you're guaranteed to enjoy the quality that each bike offers!