If you're like me, you have been using Fitbit for a while, tracking your steps is good but it would be better if it could track those indoor workouts too, right?
So I looked at how to track indoor cycling with Fitbit. Want to know how you can do it?
Here's the thing, Fitbit doesn't automatically track your indoor cycling!
If you're wanting to track indoor cycling on your Fitbit, you're going to need to add the spinning activity to your shortcuts. From there you can start to manually track your indoor cycling. 
If that doesn't suit you, you can always log the details of your indoor cycling manually using the Fitbit App or the Dashboard.
Can You Track Indoor Cycling With A Fitbit?
A large proportion of Fitbit devices will start to track high-movement activities when you start doing them, such as running or walking. Fitbit will start to track these if you are doing them continuously for 15 minutes (though this duration can be adjusted in your settings).
Inside a Fitbit are 3-axis accelerometers / sensors and these work to track any movements from your body. Also built inside are altimeters and this will measure the altitude – this is how they track how many floors you've climbed. 
Based on this data and your movement, the Fitbit can determine what activity you're doing. 
This obviously gets a bit more complicated when you're indoor cycling as your hands (which is usually where your Fitbit is located!) tend to be resting (not moving) on the handlebars.
So no matter how much you're sweating and how much you're spinning those pedals, your Fitbit isn't going to detect you're on a bike (or working hard). Though what you can use Fitbit for is to track your heart rate and the number of calories you're burning.
It all comes down to the fact that Fitbit is primarily there to track steps so when you're asking it to track activities that aren't step-based, you need to manually track them. Of course, there is also still the option to add the activity to your Fitbit account afterward.
To track your indoor cycling sessions on your Fitbit, simply go to exercise and then swipe along with the activities until you get to spinning. 
All you then have to do is press on it to start recording and tap on it again to stop it when you're done. Simple!
Whilst Fitbit obviously can't track the miles you're doing, it will track your heart rate and work out the number of calories burnt based on several factors during the activity.
Related article – 6 Of The Best Heart Rate Monitors for Cycling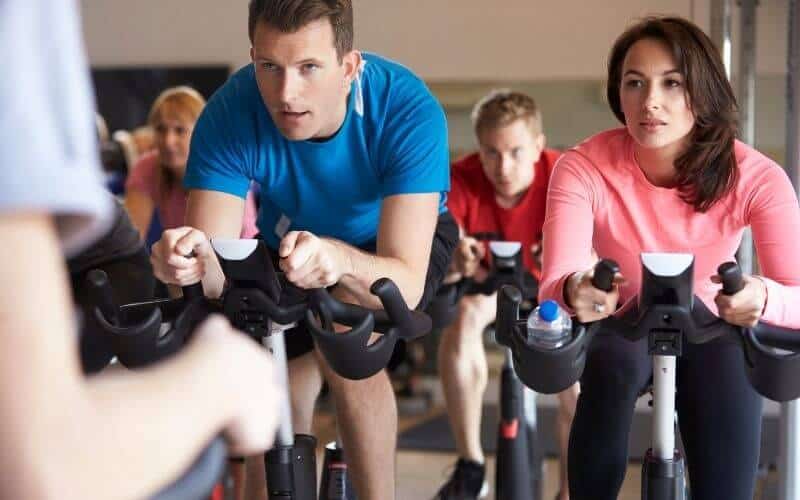 How Do I Add An Indoor Cycling Shortcut To My Fitbit?
The majority of Fitbit devices have the ability to track spinning manually. 
However, it's unlikely the default setting will have spinning as an activity shortcut on your device.
Time to add it!
To do this you're going to need to login into your Fitbit App.
You will see the below screen. Tap on your profile image at the top left of the screen (circled).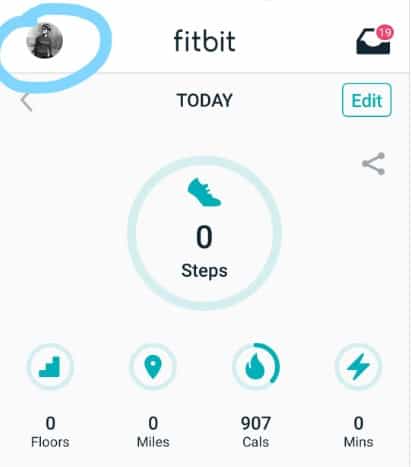 This will take you to your "Account" page. You'll be able to see your device listed. Click on that.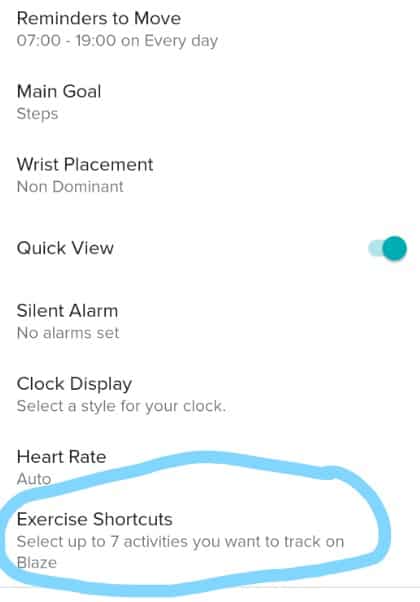 When you're on the device page, you should see the screen above. Click on the "Exercise Shortcuts" button. 
You are limited to seven options on your Fitbit device at one time so you may need to remove an activity that you don't track.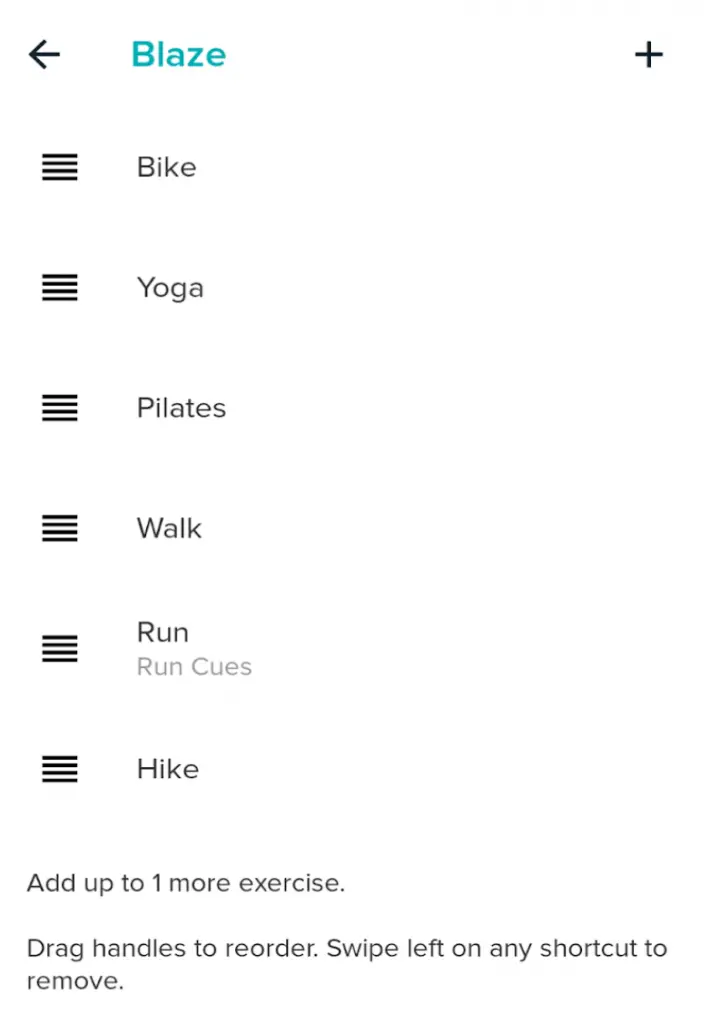 When you have one available space to add an activity, tap on the "+" button at the top right-hand corner. Find the spinning activity and add it to your Fitbit device.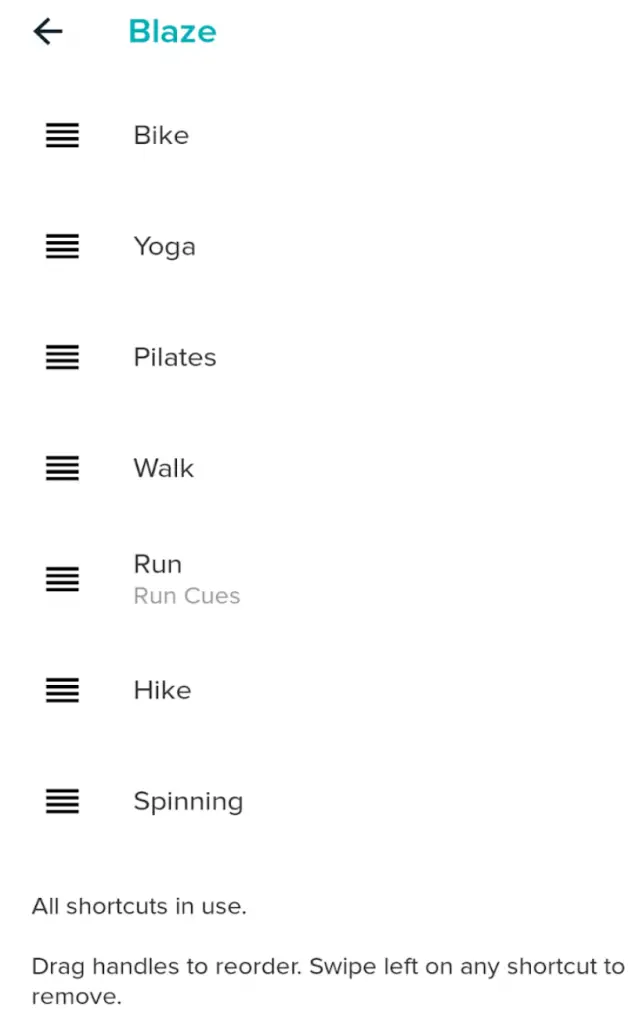 As you can see spinning has now been added to your list of activities. 
At this point, I would recommend that you manually sync your Fitbit so that these changes take place.
Does Fitbit Count Stationary Bike As Steps?
Fitbit will naturally pick up steps as you're cycling, even though you're not actually on foot. There are times when I have been wearing my Fitbit on a ride and clocked up over 30,000 steps! 
Which sounds great, but I most certainly didn't do that. Due to the motion, your Fitbit will pick up the occasional step, even though you aren't doing it. Fitbit counts steps purely based on the motion of your arm and how it swings. 
The best thing to do is set your Fitbit to the spinning activity and log your exercise that way. 
There is no way to avoid tracking those steps but as your hand is predominately on the handlebars, you shouldn't get a huge amount. 
Related article – Best Budget Bike Trainers
How To Record Your Indoor Cycling With iOS Using Fitbit
If you'd like to add your indoor cycling post-ride this is how you go about it:
Open the Fitbit app and on the dashboard tape the exercise tile. This will show you your exercise history
On the top right corner, there should be a stopwatch corner. Tap that.
Then you want to hit "log".
Find the Spinning activity.
Input when you started the activity and how long you did it.
Finally, hit the 'Add' button and this will record your exercise.
Related article – How To Record Indoor Cycling With Strava
How To Record Your Indoor Cycling With Android App Using Fitbit
Android is similar to iOS, here are the steps:
Open the dashboard and go into the 'Track your exercise' option, as you can see below. This will show you any previous exercise history you have.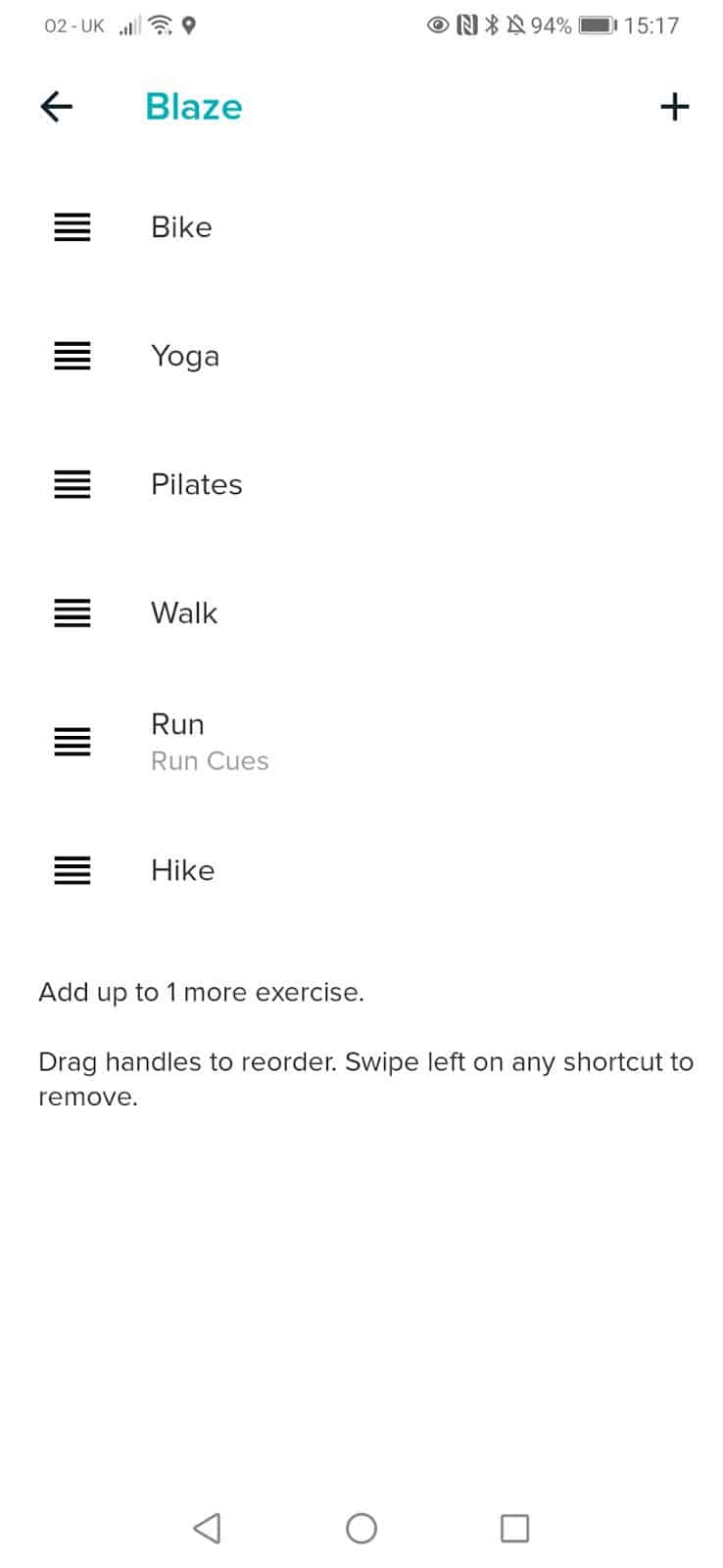 On the top right, you'll see an image of a stopwatch. Click on that.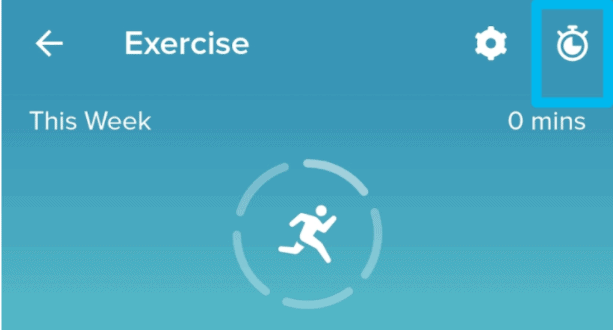 Complete the 'Log Previous' screen as you can see below.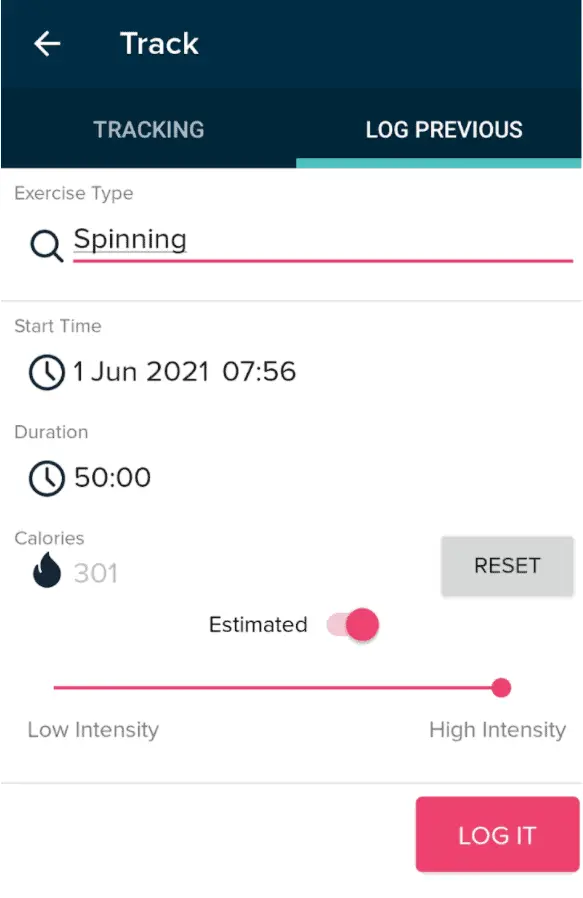 As you can see the app will calculate the number of calories burnt.
Hit the 'Log it' button and it will save your activity.
Related article – Best Portable Bike Trainer: Complete Buying Guide
Frequently Asked Questions
Which Fitbit is best for cycling?
Fitbit has a decent range of devices so when you're weighing them up it can be difficult to know which one is best suited for cycling. 
For me, it's the Fitbit Charge 4. It follows on from the Fitbit Charge 3, but there have been some worthy upgrades that ought to appeal to cyclists like us.
The Fitbit Charge 4 comes with built-in GPS. Not many Fitbit devices do so that's a huge plus, having owned a few Fitbits without integrated GPS, I can tell you, this is a step-up! It gives you the ability to leave your smartphone at home if you'd like as there's no need to always have a watch and smartphone connected. 
Personally, I'm a big fan of heart rate data, whichever smartwatch I'm wearing and I do like Fitbits. The Charge 4 is the first Fitbit to come with a new fitness metric and that's Active Zone Minutes. 
What this means is that when you're using your Fitbit, you can measure how intense your daily activities have been – this works well with cycling. 
Sure, it isn't the all-singing, all-dancing smartwatch but it hoovers up useful data all day long and for those cyclists who don't want/need all the bells and whistles, it's a great option. 
Finally, the Charge 4 boasts a battery life of 7 days (5 hours if you're using GPS) so a very respectable battery life!
Related article – 5 Of The Best Bike Fitness Trackers
Can I wear my Fitbit on my ankle for cycling?
In theory, there's nothing stopping you, however, in practice your results may not be accurate.
All current Fitbit models are designed to be attached to your wrist so if you use it differently, the calculations will come out incorrectly.
The best way to record using your Fitbit for cycling (or any other activity) is to follow the above methods for the most accurate results.
Need somewhere to mount your phone while you ride? Check out the Best Phone Holders For Indoor Cycling.
How do you manually input a spinning class?
If you want to add a spinning class after the event, you will need to do so through the Fitbit app on your smartphone.
Depending on your device, there are different methods. I have explained both iOS and Android above ⬆️!
Related article – Zwift Vs Peloton – Which Is Best For Indoor Cycling?
Final Thoughts
If you want to keep track of all your fitness activities and general fitness levels, then a Fitbit device is a great way of doing so.
Fitbit allows you to set goals and gives you the tools to monitor them. You even have the ability to monitor your sleep and your food intake throughout the day so if you have a weight loss goal in mind, Fitbit does set you up for success.
Having said that, automatically tracking your indoor training can be limited when you're using a Fitbit.
Though once you know the different options available to you, it's something that is straightforward. Speaking from experience, it's something I use every time I go on my indoor trainer and find it very useful, even if it's just to compare figures around calories burnt to Zwift (yes I can be a data nerd).
Overall, once you have your Fitbit set up how you like it and find a way that works for you, I'm sure you'll find it to be a great training tool and something that will help you attain your goals…maybe even exceed them!
Speaking of which, we're halfway through the year, how are your 2021 goals coming along? Check out our article on improving your performance with these cycling training plans.
You may also like to read How To Track Cycling On An Apple Watch.